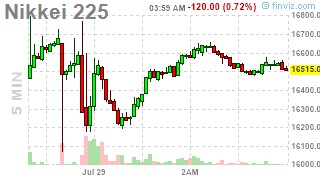 !  
As you can see from the Nikkei chart – it's been a wild morning already as the BOJ ended up doing nothing, sending the Nikkei down 600 (3.6%), then back up 600, then down another 600 then back up 300, down 300 up 500 and now settling down 120 overall – what a mess!  Imagine what would happen if they ever tightened (don't worry, not going to happen). 
Still, lack of loosening is tightening as far as Japanese traders are concerned and the Yen blasted 2.5% higher, which is about as much as a currency ever moves in a single day and we're back to just 103 Yen to the Dollar, well below the 110 the BOJ and the Keiretsu demand to keep the exports flowing.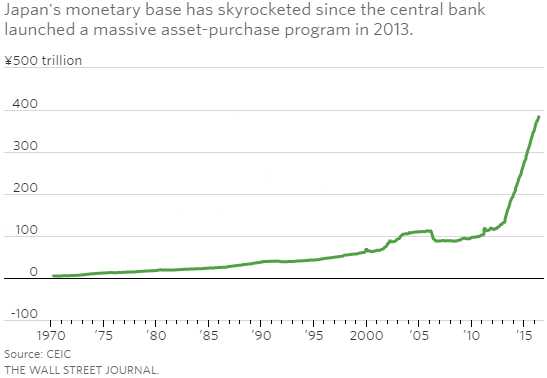 The BOJ left the door open for more easing at the September meeting by saying there would be a "comprehensive assessment" on the effects of easing but I think the Western Press is misinterpreting it as the Japanese don't like to say no and this, to me, sounds like a no, which is not surprising given the INSANE amount of easing they've already committed (yes, like a crime) in the past 2.5 years of Abenomics.
Sure it's only Yen but 400Tn of them begin to be real money – close to $4Tn, which is about the balance sheet of our own Federal reserve except that our GDP is $20Tn and Japan's GDP is now less than $5Tn and falling fast.  Nonetheless, no matter how low rates go in Japan (-0.1% now) – they have been unable to dissuade people from buying JGBs – after all, getting 99% of your money back after 10 years keeps you well ahead of their 0.4% annual deflation, right?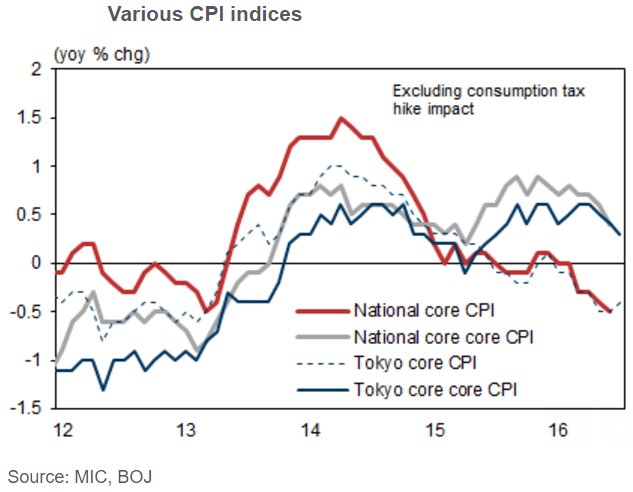 This is not the CPI chart of a healthy economy folks and Japan is $12.5Tn in debt which is, if you care to count 1,287,000,000,000,000 Yen – that's 1.287 QUADRILLION Yen in debt – not even Zimbabwe had enough fake money to cover that sort of deficit and Japan is adding another 10% of the GDP ($500Bn) to the debt pile every year.  This is why the BOJ seriously can't afford to go any further, it's already .
Heirs of a cold war,
That's what we've become
Inheriting troubles,
I'm mentally numb
Crazy, I just cannot bear
I'm living with something that just isn't fair – Ozzy
Speaking of declining economies, we got our own GDP numbers this morning and, as we expected, they were a huge miss to the 2.4% expected by leading Economorons as we actually grew at 1.2% and, funny story, last quarter it turns out we only grew at 0.8%, not the 1.1% we were told in the "final revision" last April – aren't statistics fun?
European Economorons expected the EU GDP to grow 0.6% but, surprise, it only grew 0.3% despite the pickup in inflation from 0.1% to 0.2% thanks to the same moronic policies that are destroying the rest of the Global Economy for the bottom 99%.  Also, 10.1% of the people in Europe are still unemployed.  France had 0% GDP growth, down from 0.7% in Q1.
This is all good news for PSW Members because we shorted the Dow Futures (again) at 18,400, which is the same trade idea that made a nice $3,000 gain yesterday from our Wednesday Live Trading Webinar.  Don't complain if you missed because that one was FREE (once a month they are) and I mentioned it right in our morning post.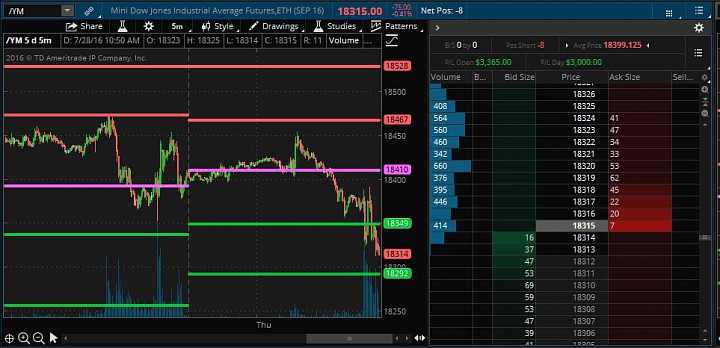 I even tweeted out the call this morning (
https://twitter.com/philstockworld
) in our Morning Alert to Members where I said (at 5am):
Not a big reaction on our end either:  18,363, 2,163.5, 4,721 and 1,213 (again) so no change in our shorting lines at 18,400, 2,165, 4,725 (OK, one change) and 1,213 and /NKD is 16,600 so we'll watch that but it's a poor indicator today.  Better to watch the Dollar, now 96.41, down another 0.5% from yesterday afternoon but off the 96.20 low.  

We're only down about 0.25% on the indexes at the moment (8:49) because the Dollar fell off a cliff on the poor GDP report, now 95.85, which is down a full point for the morning.  That is boosting the things that are priced in Dollars like stocks and commodities so don't be fooled, this was very bad news and we're getting a bad reaction – priced in Euros or Yen anyway…
We also expect the Dow to be dragged down by poor earnings reports from Exxon (XOM) and Chevron (CVX), who are both heavyweight Dow components.  Apple (AAPL) had been boosting the Dow this week but the big oil companies are more indicative of the broader economy that will affect the components that haven't reported yet.  
XOM, as it turns out, missed by a lot, with earnings at 0.41/share vs 0.64 expected and CVX was a complete disaster, losing 0.78 per share vs expectations of a 0.32 profit by moron analysts, who apparently were not informed that both XOM and CVX sell OIL!!!!  If oil is trading for less money than it did last year and XOM and CVX sell oil for a living – what do you predict would happen to their profits?  
See – you understand the markets better than the 73 professional analysts that are currently paid to follow those two stocks or maybe they are paid to lie to you so you are fooled into putting good money into bad companies – which is more likely?  Oil averaged about $57.50 last April, May and June and CVX earned 0.30, this Q it averaged $47.50, which is almost 20% less so how could they possibly earn the same 0.30 unless they started selling iPhones?
This is just part of the overall downtrend in Corporate Profits I have been warning you about: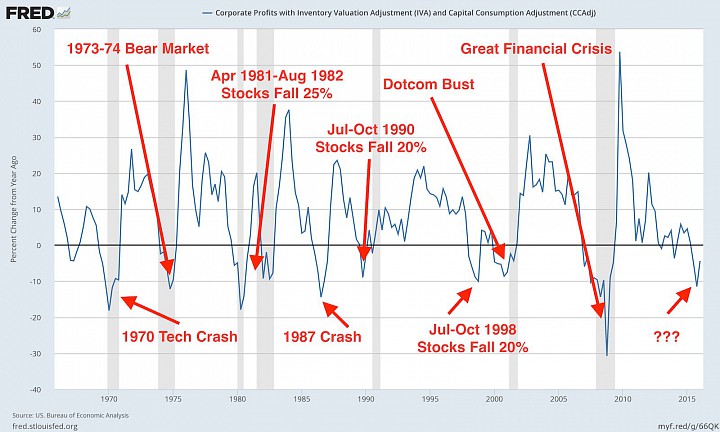 That does not bode well for August but we are in CASH!!! and well-hedged on our remaining longs so no worries into the weekend so have a good one and we'll come back next week with some earnings trades.
Have a great weekend, 
- Phil
Provided courtesy of Phil's Stock World.
Would you like to read up-to-date articles on the day they are posted? Click here to become a part of our growing community and learn how to stop gambling with your investments. We will teach you to BE THE HOUSE - Not the Gambler!