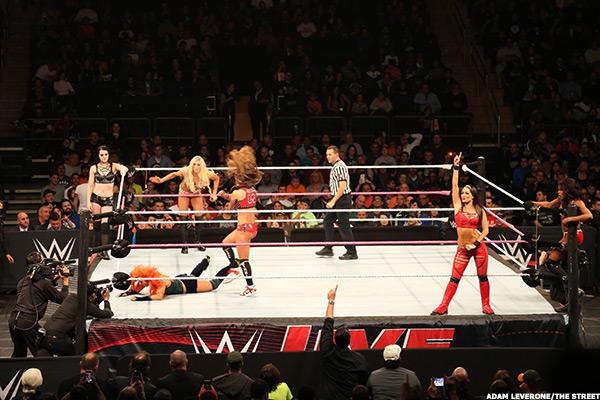 NEW YORK ( TheStreet) -- The days of females taking a backseat to the men in professional wrestling is as dead as the "Deadman" himself, the legendary Undertaker. And for World Wrestling Entertainment (WWE - Get Report) , this may be what's best for business.
The WWE Divas, WWE's female athletes, have become an increasingly valuable commodity for the company in recent years. It's no small surprise the expanding role of the WWE Divas division has coincided with the rise in power of the most influential woman in the wrestling business, Stephanie McMahon, Chief Brand Officer of WWE and daughter of chairman and CEO Vince McMahon. The top female performers such as Nikki and Brie Bella, known as The Bella Twins and Natalya Neidhart have amassed millions of followers on Twitter (TWTR - Get Report) and Instagram, a legion of fans interested in behind the scenes happenings at live events and insight into the talent's daily lives.
"Social media has definitely let everyone know who Nikki and I really are -- it's a storybook to our lives," said Brie Bella in an interview with TheStreet, discussing how social media has helped their career.
The greater connection with the WWE Divas to fans worldwide due to their hefty social media presence helps to promote WWE's live weekly shows such as Monday Night Raw and Smackdown, as well as drive...
More