On my premium (fee) portfolio research here I continued coverage on INVN but ultimately opted for STM instead. Three years of InvenSense (INVN) research and STM turned out the better IoT player.
Pick your poison: 1) research time and no gains or 2) zero due diligence work and a fat loss.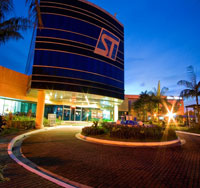 STM's return for subscribers so far: Positive 23% excluding dividends of over 5 - 7% yield. Annual return: 30 percent.
May INVN carve any moat through WMT or drone delivery?
It is unlikely.
STM earned a small profit against a drop in revenue (down 3.4%). The company made $3.4 billion in sales. Automotive and microcontroller revenues are positive drivers for the stock, albeit at a slow and steady pace. The role of IoT in cars will only get bigger.
Meanwhile, MBLY yesterday said it will part ways with TSLA. STM makes better sense for investors seeking value. STM32 produced at a mass market level will help the company meet steady revenue projections.
Continue avoiding InvenSense until the company announces design wins.
STM is an effective IoT play.  BlackBerry is, too. At sub $8 no one believes in BBRY. The market may prove them wrong.