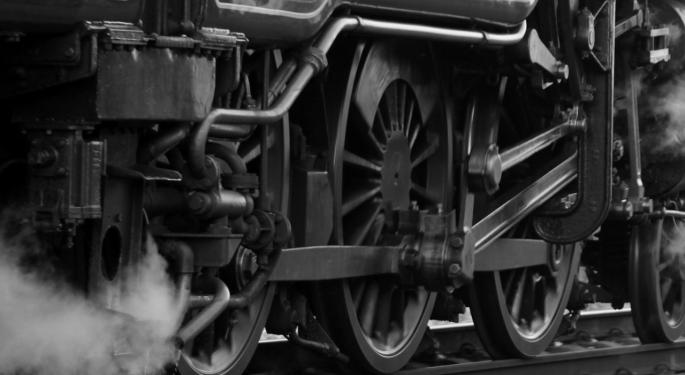 Shares of CSX Corporation CSX 1.72% lost some of its gains it had in the previous sessions as it provided a tepid outlook for the third quarter and full year.
The transportation company expects a decline in its third-quarter and full-year earnings. The Street expects a 13 percent drop in third-quarter earnings to $0.45, while full-year earnings are expected to fall 13.5 percent to $1.73.
In a presentation posted on its website, CSX sees reflects mid-to-high single digit volume declines in the third quarter, while the full year reflects current environment and cycling 2015 items, partially offset by strong pricing, efficiency savings approaching $350 million, and right-sizing efforts.
Noting that macro and coal headwinds expected to persist in 2016, CSX sees coal shipments to drop 34 percent for the year.
For the third quarter, the company's unfavorable items outnumber favorables.
Favorable Drivers
Automotive: North American light vehicle production remains strong
Minerals: New fly ash business and construction strength
Unfavorable Elements: Markets
Agricultural Products: Low commodity prices and U.S. dollar impacting business
Chemicals: Continued crude oil declines due to low worldwide oil prices
Domestic Coal: Low natural gas prices and high inventory levels reduce burn
Export Coal: Strong U.S. dollar and continued global market oversupply
Fertilizers: Import displacement due to strong U.S. dollar
Food & Consumer: Continued headwinds from excess truck capacity
Forest Products: Strong U.S. dollar and continued decline in paper demand
Intermodal: Cycling prior competitive International losses
Metals: Market dynamics continue to challenge U.S. steel producers
Waste & Equipment: Cycling large soil remediation projects
At the time of writing, shares of CSX were down 1.10 percent on the day to $28.73.
Did you like this article? Could it have been improved? Please email feedback@benzinga.com to let us know!
© 2016 Benzinga.com. Benzinga does not provide investment advice. All rights reserved.