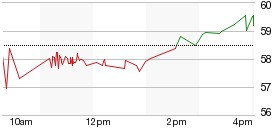 On Nov 20, Zacks Investment Research updated the research report on leading semiconductor manufacturer Qorvo, Inc. QRVO.
Qorvo reported healthy second-quarter fiscal 2016 results as adjusted earnings comfortably beat the Zacks Consensus Estimate on a nearly two-fold jump in revenues. Moving forward, Qorvo is likely to gain a competitive advantage in the industry through economies of scale and cost efficiency by mutual sharing of resources of the merged entities.
Qorvo is leveraging the industry's most comprehensive product portfolio, advanced packaging technologies, and system-level expertise to quickly introduce highly integrated front-end solutions that simplify and accelerate the implementation of multimode, multi-band 4G smartphones and tablets. These new RF Fusion front-end solutions showcase Qorvo's ability to help leading OEMs to more quickly launch their next-generation flagship...
More