The shares of Sears Holdings Corp (NASDAQ:SHLD) are trading lower after the company released an update to its financial performance, which shows a double-digit comparable store sales decline in the second quarter.
The stock price of Sears Holdings plummeted 7.59% to $19.91 per share at the time of this writing around 11:19 A.M. in New York.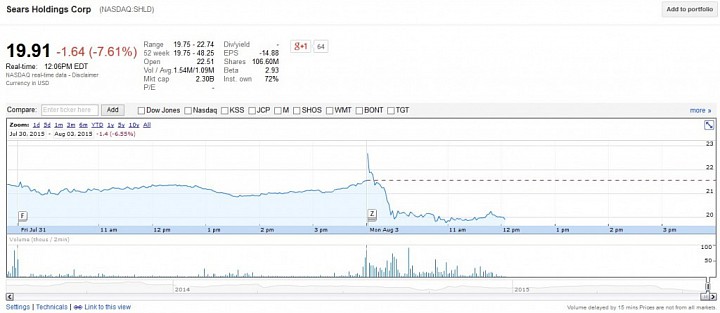 Sears Holdings estimated that its total comparable store sales declined 10.6% quarter to date. According to the company, its total comparable store sales performance included a 6.9% drop in Kmart and a 13.9% decline in Sears Domestic.
The retailer expected to record its fourth consecutive quarter of improved adjusted EBITDA in the range of $ (189) million to $ (248) million excluding significant items in the second quarter. During the same period a year ago, Sears Holdings posted $(289)...
More