Autodesk (ADSK) shares have been rallying ahead of its Q2 earnings report due Thursday. However, there is a critical resistance just ahead, as we can see in the weekly chart below.
ADSK Weekly Chart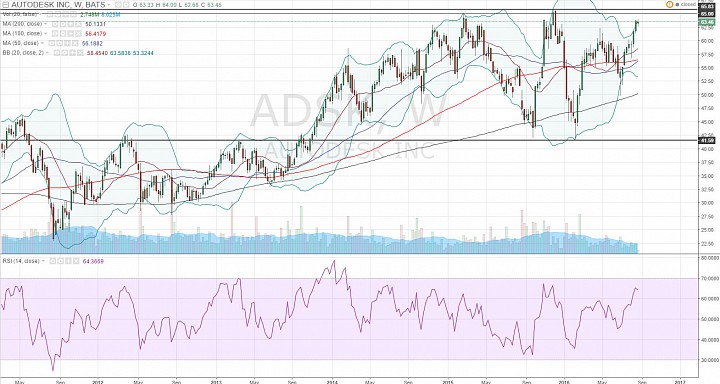 (click to enlarge)
Consolidation resistance:
- Looking at the weekly chart, we can see that ADSK has been in a long-term bullish trend, but has been consolidating over the past couple of years. 
- The wide range is roughly between 41.60-42.50 and 65-65.80. 
- Even though the prevailing trend is bullish, we should anticipate at least some short-term resistance around 65.00. 
- A 10% pullback could be within the scenario of a subsequent bullish breakout. A return to 60.00 should not be a surprise, especially if Q2 earnings underwhelm. 
Earnings: Whether we will see a breakout or a retreat from resistance will most likely come down to whether earnings will surprise the market.
- "In the last quarter, the company delivered in-line earnings. The company has delivered an average positive earnings surprise of 23.22% in the trailing four quarters." (Nasaq.com)
- According to Thestreet.com "Analysts are estimating that the company will post a loss compared to a profit last year. Revenue is projected to decline year-over-year.
Wall Street is expecting the design software and services company to report a loss of 13 cents per share on revenue of $512.1 million.
During the same quarter last year, the San Rafael, CA-based company said it had adjusted earnings of 19 cents per diluted share on revenue of $609.5 million." (TheStreet.com)