The overnight session had been mostly quiet until minutes ago, when unexpectedly WTI, which had traded down as low as the mid $46 range following the weakest Chinese manufacturing data in two years, saw another bout of algo-driven buying momentum which pushed it sharply, if briefly, above $50, and was last trading about 2.6% higher on the day. In today's highly correlated market, this was likely catalyzed by a brief period of dollar weakness as well as the jump of EURCHF above 1.05, within the rumored corridor implemented by the Swiss National Bank, which apparently has not learned its lesson and is a glutton for a second punishment, after its hard Swissy cap was so dramatically breached, it hopes to repeat the experience with a softer one around 1.05. Expect to see even more FX brokers blowing up once the EURCHF 1.05 floor fails to hold next.
A little more on the biggest move of today, when WTI rallied more than $2 in 10 minutes as the focus returned to record drop in weekly U.S. rig use amid strike at refineries that may cut oil-product supply. The problem for now is that while the US rig count is plunging, US production has yet to show even the smallest downturn, however headline reacting algos have yet to be programmed to pay attention to the difference. Violence in Iraq boosts Brent as premium to WTI expands to more than $5. "It looks to be driven by products --gasoil is up ~10%, gasoline 4%-- which is related to the strike in the U.S, driving up the crack spreads and pulling up crude as well." Ole Hansen Saxo Bank head of commodity strategy was quotes by Bloomberg. "It is an extension of Friday, when we really saw shorts on the run, now the products have started to move they have started to go for safety."
It remains to be seen if the NYMEX session "banging the close" forced short squeeze from Friday can withstand the global deflationary wave. Look for Exxon's earnings to set the mood when it reports at 8 am today, a mood which judging by the collapse in energy company earnings expectations will not be euphoric.
Meanwhile, going back to Switzerland, while Europe overall reported a final PMI of 51.0, in line with the Flash estimate (the monthly rise is largely attributable to Manufacturing PMIs for France and Italy -- which increased by 1.7pt (to 49.2) and 1.5pt (to 49.9) respectively -- and, to a lesser extent, by the 0.9pt rise in the Spanish Manufacturing PMI (to 54.7) even as both the German and French Manufacturing PMIs undershot their flash estimate by 0.1pt and 0.3pt respectively), it was the plunge in the Swiss manufacturing PMI which tumbled in January, declining from 53.6 in December to 48.2 in January, its lowest reading since October 2012. The "backlog of orders" sub index dropped almost 10 points to 44.2 after 53.6.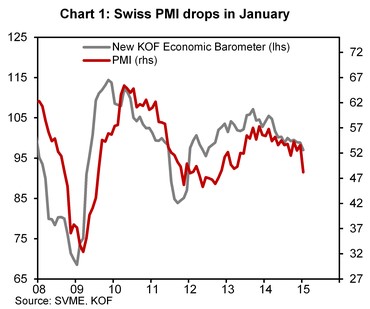 Goldman said this reflects "the sharp appreciation of the CHF after the end of the minimum exchange rate" and it is right. But there's more:
The SNB ended its policy of a minimum exchange rate against the Euro, which led to a sharp appreciation of the CHF, only in the middle of January. Today's decline in the manufacturing PMI therefore only partially reflects the adverse effects of the appreciation of the exchange rate and we would expect a further weakening in sentiment in the manufacturing sector going forward. The KOF index had recorded a less pronounced decline in January (97.0 after 98.8). But the KOF index also includes more domestic-oriented sectors and is therefore less responsive to exchange rate movements.
That's ok though: with Switzerland about to join the global recession, surely a few momentum-ignition algos will save global crude demand post-haste.
And speaking of global recession, with every passing day China is getting closer to one: Asian equities traded mostly lower taking the lead from a negative Wall Street close on Friday with sentiment further weighed on by poor Chinese data. Chinese Mfg. PMI reading saw its first contraction since Sept'12 (49.8 vs. Exp. 50.2 (Prev. 50.1), while the HSBC reading saw a consecutive month of contraction (49.7 vs. Exp. 49.8 (Prev. 49.8). Hang Seng (-0.1%) and Shanghai Comp (-2.6%) remain in the red, the latter having posted its biggest fall in 2-weeks. Nikkei 225 (-0.6%) recovered some earlier weakness underpinned by a weak JPY.
The first European session of the week sees equities open in relative calm after an easing of tensions between Greece and Europe. This comes as Greek PM Tsipras commented over the weekend that a debt deal is imminent and Greece will fulfil obligations to the Troika, adding that talks with European nations is in early stages but he is confident they will reach an agreement that benefits everyone. This has seen the ASE retrace some of its losses from last week, and the GR/GE 10Y spread is tighter by over 35bps. Greek banks are also outperforming as ECB's Constancio commented over the weekend that ELA (Emergency Liquidity Assistance) is ultimately up to the ECB's governing council so will be available for Greek banks even if Greece fails to agree on further support from the European Union and the IMF. The IBEX is the underperformer of the European indices after Santander (-2.9%) opened the session Ex-div and Telefonica (-3.4%) fell amid reports of a share sale plan worth EUR 4-5bln. European PMIs this morning showed a mixed picture and failed to move the market.
Both T-Notes and Bunds have traded range bound this morning, with little news flow during the European mornings to move the US and European benchmark. However, looking ahead, there are a host of tier one data this afternoon coming out of the US, including personal income, PCE deflator and manufacturing PMI, while market participants will also be looking out for Exxon earnings, due at 1300GMT.
In FX, EUR/CHF has spent the European morning extending on gains following weekend source comments suggesting that the SNB is unofficially targeting EUR/CHF at 1.05-1.10 which will cost CHF 10bln, with the cross spending the morning above the 1.05 handle. Elsewhere, AUD has strengthened this morning amid short covering ahead of tomorrow's RBA rate decision, despite RBA watcher McCrann heightening expectations for a rate cut. This comes as Goldman Sachs suggest that if the RBA do not cut their key rate, AUD/USD may bounce back above the 0.8000 handle.
The energy complex sees Brent and WTI trade higher today, erasing overnight losses after originally coming off Friday's highs which saw WTI close 5% higher in the wake of the Baker Hughes rig count fell by over 90 rigs, the biggest fall since 1987. One piece of news of note is the strike by the United Steelworkers Union, which represents employees at more than 200 US oil refineries, terminals, pipelines and chemical plants. The strike takes place at 9 sites and is the biggest walkout called since 1980.
In Summary: European shares trade mixed, off intraday lows, with the travel & leisure and banks sectors underperforming and oil & gas, autos outperforming. Greek banks rise, Spanish banks fall. Merkel said unlikely to agree to bilateral meeting with Tsipras at EU summit next week. Greek finance minister said late yesterday country needs ECB's help to keep its banks afloat. Euro-area January manufacturing PMI in line with estimates, Chinese manufacturing PMI below, U.K. above. The Spanish and Italian markets are the worst-performing larger bourses, the German the best. The euro is stronger against the dollar. Japanese 10yr bond yields rise; Greek yields decline. Commodities gain, with gold, silver underperforming and Brent crude outperforming. S&P futures rise. U.S. Markit manufacturing PMI, ISM manufacturing, construction spending, personal income, personal spending due later.
Market Wrap
S&P 500 futures up 0.4% to 1997
Stoxx 600 down 0.3% to 366.1
US 10Yr yield up 4bps to 1.68%
German 10Yr yield up 1bps to 0.31%
MSCI Asia Pacific down 0.2% to 140.2
Gold spot down 0.6% to $1275.9/oz
Euro up 0.4% to $1.1336
Dollar Index down 0.13% to 94.68
Italian 10Yr yield down 3bps to 1.57%
Spanish 10Yr yield up 1bps to 1.43%
French 10Yr yield down 0bps to 0.54%
S&P GSCI Index up 1.9% to 397
Brent Futures up 3% to $54.6/bbl, WTI Futures up 2.2% to $49.3/bbl
LME 3m Copper up 0.8% to $5540/MT
LME 3m Nickel up 0.9% to $15305/MT
Wheat futures down 0.2% to 501.5 USd/bu
Bulletin Headline Summary from RanSquawk and Bloomberg
EUR/CHF has spent the European morning extending on gains following weekend source comments suggesting that the SNB is unofficially targeting EUR/CHF at 1.05-1.10 which will cost CHF 10bln
Greek PM Tsipras stated over the weekend that a debt deal is imminent and Greece will fulfil obligations to the Troika, adding that talks with European nations is in early stages but he is confident they will reach an agreement that benefits everyone
Looking ahead, there are a host of tier one data this afternoon coming out of the US, including personal income, PCE deflator and manufacturing PMI, while market participants will also be looking out for Exxon earnings, due at 1300GMT/0700CST
Treasuries fall in overnight trading after last week saw fifth straight weekly drop for U.S. 10Y yield, which closed at lowest since May 2013, while 30Y yield closed at record low 2.252%.
China's official PMI fell to 49.8 last month from 50.1 in December, missing the median estimate of 50.2 in a Bloomberg survey of analysts
U.K. manufacturing growth accelerated in January as factories saw a pickup in domestic orders and the biggest decline in raw-material costs in almost six years
Australia's central bank is seen joining at least 12 monetary authorities that have eased policy since the New Year, as even a nation that has grown for more than 23 consecutive years catches the global disinflation bug
Greek Prime Minister Alexis Tsipras began the hunt for allies against German demands for austerity as his week-old government appealed to the ECB not to shut off the money tap
French Finance Minister Michel Sapin said he wants to facilitate a new deal for Greece with its official creditors after hearing the country's plans for economic revival
Merkel wants to avoid being drawn into a direct confrontation with Tsipras and is unlikely to agree to a bilateral meeting with him at an EU summit next week, a German government official said
Julius Baer Group Ltd. said it plans to reduce costs by CHF100m ($108m), including 200 job cuts, as a surge in Switzerland's currency may crimp profit at the nation's third-largest wealth manager
President Obama will send a $4t budget blueprint to Congress today that would raise taxes on corporations and the nation's top earners, fund projects in infrastructure and education. Proposes that U.S.-based companies pay a minimum 19% tax on their future foreign earnings, capturing profits that are now often beyond the government's reach
The Justice Department is seeking to advance a more-than-five-year probe into whether Moody's inflated ratings during the U.S. housing boom, according to three people familiar with matter
The New England Patriots collected their fourth Super Bowl title as the Seattle Seahawks' quest for a second straight championship ended with a goal-line interception in the final minute of the game
Sovereign yields mostly lower, Greece 10Y falls 44bps to 10.74%  Portugal and Italy also lower. Asian stocks mixed; European stocks mostly lower, U.S. equity-index futures gain. Brent, WTI and copper rise; gold drops
* * *
DB's Jim Reid concludes the weekend event recap
Welcome to February, a month that may ultimately seal Greece's fate within the EU and tell us more about how permanent the Euro might be longer-term. We'll review a wild and volatile January at the end - a month that saw a wide range of returns across our global pool of assets. With regards to Greece, last week's new Government certainly hit the ground running in a very aggressive manner scaring the international community with their rhetoric. They also scared their own banking sector with the sector's equity down around 38% post election. The official EU response has been pretty strong too suggesting limited desire to cede to the new Government's approach. The current program Greece is under expires on February 28th so this will be a month of high stake negotiations with Greek banks seen as vulnerable to collapse if a compromise can't be found. There was perhaps some hint of a softer stance over the weekend with the Greek PM Tsipras issuing a statement that suggested he was confident "we will soon manage to reach a mutually beneficial agreement, both for Greece and for Europe as a whole" and that he was not "seeking conflict".
The softer stance over the weekend was also helped by Finance Minister Varoufakis saying that Greece will not ask for any more aid under its current agreement and that 'during this period, it is perfectly possible in conjunction with the ECB to establish the liquidity provisions that are necessary' after being quoted on Bloomberg. Comments out of the French finance minister Sapin were also probably more encouraging. Specifically Sapin was quoted on Reuters as saying that 'given the government would like to discuss ways to reduce the weight of this debt and the reimbursement of this debt, that appears (to be) legitimate to me' whilst also reinforcing the view that it's beneficial for Greece to stay in the Eurozone. Meanwhile, Merkel, in an interview with Hamburger Abendblatt over the weekend noted that 'I do not envisage fresh debt cancellation'. The hire of Lazard Bank to advise on Greece's debt burden is evidence that developments are moving quickly and over the next few days we see Varoufakis meet with UK and Italian counterparts as well as getting the ECB bi-weekly decision on Greek ELA on Wednesday which we expect to have come under greater demand lately and most probably under greater scrutiny by the ECB as well. Wednesday also sees a likely t-bill auction for the government to cover the upcoming redemption and on Thursday we see the Greek parliament reopen. Next weekend we see the Greek government present legislative agenda to parliament with a vote of confidence due on Monday. So all eyes on Greece once again this week.
Another political event worth keeping an eye on is in Spain where tens of thousands of people descended on Madrid for a rally organized by the upstart leftist party Podemos. The anti-austerity rally was used as a sign of political strength ahead of the local elections this spring and general elections later in the year with the event popularity likely buoyed by the recent Syriza victory. Podemos leader Iglesias was quoted in the WSJ telling the crowd that 'the Greek people have won in Greece' and that 'we need dreamers who dare to defend the poor to fight the rich'. Politics is a huge threat to the Euro over the years ahead and how the Greece situation is handled might have big consequences elsewhere so its certainly a big month ahead.
In terms of the market reaction in Asia this morning, bourses have declined sharply with the Nikkei (-0.75%), Shanghai Composite (-1.79%) and Hang Seng (-0.46%) all lower. With regards to China, over the weekend the nation released its official manufacturing PMI for January with the print coming in below 50 at 49.8 and down 0.3pts from the previous reading. The print was the first below 50 since September 2012 whilst business expectations in particular dropped to the lowest level on record. Our China economist Zhiwei Zhang noted that the recent print reinforces the view that growth will slow sharply in Q1 following a cut to the GDP forecast from 7.2% to 6.8% earlier this month as the economy faces headwinds from a property slowdown and a fiscal slide. Our China team expects the government to loosen monetary policy aggressively in H1 with two interest rate cuts and two RRR cuts expected over the full year.
Coming back to markets on Friday, in the US the S&P 500 finished -1.30% to close just shy of its lows for the month. Credit markets also finished softer with the CDX IG finishing 2.5bps wider. Treasuries on the other hand saw a firm bid with the broad risk-off tone. 10y benchmark yields tightened 11.1bps to close at their lows for the day at 1.641% - the lowest level since early May 2013. 30y yields meanwhile struck a fresh record low at 2.222%, down 9.3bps on the day. The rally in Treasuries was no doubt helped by a softer than expected Q4 GDP report with the annualized 2.6% print coming in both below expectations (3.0%) and down from 5.0% previously. Our US colleagues in particular noted that net exports dragged the reading lower which subtracted 100bps from real GDP. In fact it was a busy day data-wise on Friday. The employment cost index offered few surprises with the +0.6% coming in as expected whilst personal consumption rose 4.3% (annualized) over Q4 which was the largest gain since Q1 2006, buoyed by lower energy prices. Elsewhere the ISM Milwaukee declined 6pts to 51.6 although the Chicago purchasing manager index was a beat (59.4 vs. 57.5 expected). The University of Michigan sentiment index was largely unchanged at 98.1 for January.
With Friday's data perhaps more in favour of the doves, the Fed's Bullard lent some support to the hawks when he was quoted on Bloomberg saying that the 'market has a more dovish view of what the Fed is going to do than the Fed itself'. The Fed official went on to say that 'if I were going to play it strategically, I'd rather get off zero sooner and then have more flexibility to go slower and react to data'. Bullard did however acknowledge the moves in oil saying that 'we're going to have to let the oil markets settle down (and) stabilize at some level'. Just on oil, with much of the focus on Greece and US data, an +8% rally in WTI and Brent was somewhat overshadowed on Friday. The moves came about following the latest Baker Hughes rig count which showed the number of operating rigs decreasing by 94 last week to a fresh three year low. Reuters reported that the latest fall in rigs was a lot greater than expected and prompted short-covering over concerns that slowing US oil production could be closer than expected. Chevron meanwhile reported better than expected results on Friday although they continued the trend of cutting capex after noting that it would cut it by 13% this year. In fact staying on oil, one thing to potentially keep an eye on in the near term is the news over the weekend that the United Steelworkers union had told its workers at nine US refineries and chemical plants to strike yesterday over issues on pay and benefits. As per Bloomberg, the strike is the first of its kind since the 1980s and the refineries currently on strike can produce about 10% of total US capacity. Significantly however, the Union covers 64% of total US fuel production.
Wrapping up Friday's price action, it was also a weaker day in Europe with both the Stoxx 600 (-0.46%) and DAX (-0.41%) trading lower, not helped by the decline in Greek equities (-1.6%). It was a strong day for government bonds in Europe with 10y yields in Germany (-5.6bps) and France (-6.1bps) rallying. The Euro was modestly weaker (-0.26%) versus the Dollar at $1.129. In terms of data, Euro-area headline inflation dropped to -0.6% yoy in January, down from -0.2% previously and lower than the -0.5% expected. Although energy prices were to blame for the drop there was also a fall for the core rate which declined to +0.6% yoy from +0.7%. Meanwhile the unemployment rate fell one-tenth to 11.4% and German retail sales surprised to the upside (+4.0% yoy vs. +3.6% expected). The theme of Central Bank easing continued with Russia surprising markets and announcing a 200bps cut to their benchmark rate to 15%. The move comes after a 650bps hike in December with the Central Bank shifting its focus from inflation to 'the sizeable decline in economic activity'. Having hit an intraday high of 71.8 versus the Dollar, the Rouble closed at 69.5, still 0.72% weaker on the day.
In terms of the week ahead, we kick off this morning in Europe with the final manufacturing PMI prints for the Euro-area, Germany and France as well as the preliminary reading out of the UK. It's a busy day data-wise in the US this afternoon kicking off with price deflator data and following up with the personal income and spending readings, final manufacturing PMI, construction spending and then rounding off with the ISM manufacturing and prices paid. Turning to Tuesday we've got PPI for the Euro-area as well as inflation data out of Italy and the construction PMI for the UK. Across the pond on Tuesday we've got the ISM New York, factory orders and the IBD/TIPP economic optimism reading. Kicking off Wednesday we've got early services PMI's readings out of Japan and China along with cash earnings data in the former. Closer to home on Wednesday we've got the final PMI services readings for January due out of the Euro-area, France and Germany. Also due out of the Euro-area is retail sales for the December period. In the US on Wednesday we've got the ADP employment change print which should be a decent precursor into Friday's payrolls. The ISM non-manufacturing and services prints round off the releases for the US on Wednesday. Turning to Thursday, we've got the BoE decision due in the UK as well as factory orders out of Germany. Over in the US on Thursday we've got more employment data with Challenger job cuts and jobless claims prints along with nonfarm productivity, unit labour costs and trade data. We round off the end of the week with the leading index print out of Japan followed by German industrial production and trade data out of the UK. Friday afternoon will no doubt be highlighted by the nonfarm payrolls print in the US with the market looking for a 235k reading and our US colleagues looking for an above consensus 240k gain. Average earnings, unemployment and consumer credit round off the week.