Louisiana-Pacific Corporation LPX posted lower-than-expected earnings and revenues in the third quarter of 2017.

The company reported adjusted earnings per share of 70 cents in the third quarter of 2017, missing the Zacks Consensus Estimate of 75 cents by 6.7%. Earnings improved considerably from the year-ago quarter's 32 cents.

Net sales of $718 million in the quarter lagged the Zacks Consensus Estimate of $763 million by 5.9%. However, net sales increased 20% year over year.

Earnings and revenues improved from the prior-year quarter driven by favorable product mix, increase in volume and higher pricing in the Oriented Strand Board (OSB) and siding segments.

Adjusted EBITDA from continuing operations was $192 million in the quarter, up 73% from $111 million in the prior-year quarter.

Louisiana-Pacific Corporation Price, Consensus and EPS Surprise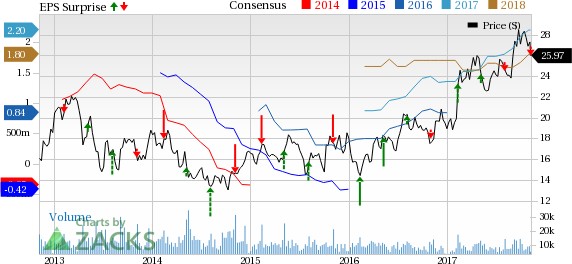 Louisiana-Pacific Corporation Price, Consensus and EPS Surprise | Louisiana-Pacific Corporation Quote
Segmental Analysis

OSB: Sales at the OSB segment increased 24.5% year over year to $351 million. In the third quarter, adjusted EBITDA increased by $59 million from the third quarter of 2016.

Sales volumes were down 3% from the prior-year quarter, while sales prices increased 29%.

Siding Segment: The segment manufactures products under two categories — SmartSide siding products and related accessories, and CanExel siding line with a limited amount of OSB. These products are used for new constructions, repair and remodeling, and outdoor structures such as shed.

This segment's sales were up 15.9% to $226 million on a 5% increase in SmartSide average sales prices and 6% rise in volumes.

In this quarter under review, the Siding segment recorded adjusted EBITDA of $61 million, reflecting an increase of $19 million from the third quarter of 2016.

Engineered Wood Products (EWP): The EWP segment makes I-Joists (IJ), laminated veneer lumber (LVL), laminated strand lumber (LSL) and other related products. These products are used in residential and commercial flooring and roofing systems.

Engineered Wood Products sales grew 22% year over year to $98 million in the quarter owing to higher volumes of I-Joist (up 6%) and LSL and LVL products (up 12%).

Pricing increased 6% for LVL and LSL and 9% for I-Joists. Adjusted EBITDA increased $6 million from the prior year quarter.

South America: This segment comprises facilities in Chile and Brazil. Segmental sales declined 18.8% year over year to $38 million.

Volumes increased 12% in Chile and 9% in Brazil on higher export sales. Due to depreciation of dollar relative to local currencies, pricing was up 3% in Chile and 7% in Brazil. However, on a U.S. dollar basis, Chile's pricing was flat while Brazil's pricing rose 4%.

Adjusted EBITDA was $8 million compared with $6 million in the third quarter of 2016.

Other: Net sales were $6.5 million in the quarter, compared with $7.6 million a year ago.

Financials

Louisiana-Pacific ended the quarter with cash and cash equivalents of $848.7 million, as of Sep 30, 2017, compared with $659.3 million as of Dec 31, 2016.

Zacks Rank & Peer Releases

Louisiana-Pacific sports a Zacks Rank #1 (Strong Buy). You can see the complete list of today's Zacks #1 Rank stocks here.
PulteGroup Inc.'s PHM third-quarter 2017 adjusted earnings of 60 cents per share beat the Zacks Consensus Estimate of 59 cents by 1.7%. Also, quarterly earnings reflected a solid 40% increase from the year-ago quarter's 43 cents.

Masco Corporation's MAS adjusted earnings of 50 cents per share in third-quarter 2017 missed the Zacks Consensus Estimate of 53 cents by 5.7%. However, adjusted earnings increased 22% year over year.

Upcoming Release in the Construction Sector

D.R. Horton, Inc. DHI is scheduled to release its quarterly numbers on Nov 9. The Zacks Consensus Estimate for earnings is pegged at 82 cents, an increase of 9.3% on a year-over-year basis.

Zacks' Hidden Trades

While we share many recommendations and ideas with the public, certain moves are hidden from everyone but selected members of our portfolio services. Would you like to peek behind the curtain today and view them?

Starting now, for the next month, I invite you to follow all Zacks' private buys and sells in real time from value to momentum...from stocks under $10 to ETF to option movers...from insider trades to companies that are about to report positive earnings surprises (we've called them with 80%+ accuracy). You can even look inside portfolios so exclusive that they are normally closed to new investors.

Click here for Zacks' secret trade>>
Want the latest recommendations from Zacks Investment Research? Today, you can download 7 Best Stocks for the Next 30 Days.
Click to get this free report
Masco Corporation (MAS): Free Stock Analysis Report
Louisiana-Pacific Corporation (LPX): Free Stock Analysis Report
PulteGroup, Inc. (PHM): Free Stock Analysis Report
D.R. Horton, Inc. (DHI): Free Stock Analysis Report
To read this article on Zacks.com click here.
Zacks Investment Research