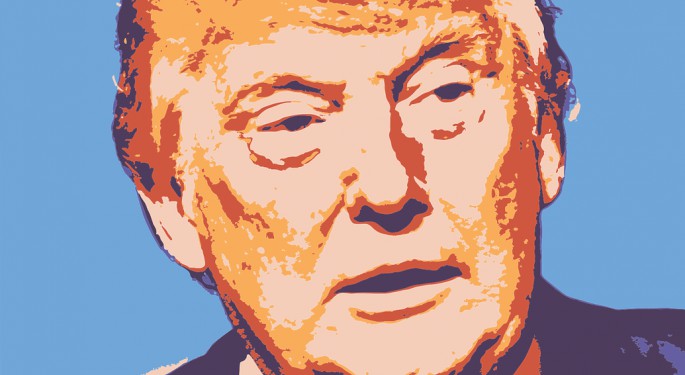 Over the past four months, Donald Trump and Hillary Clinton's poll numbers have shifted significantly. Trump reached a slight lead shortly after the Republican National Convention; however, his polls numbers have dropped sharply since his controversial Kahn family comments.
Have stocks previously labeled as likely to benefit from a Trump presidency followed his shifting poll numbers? In order to find out, Benzinga plotted the BZ Trump Stock Index against Real Clear Politics' reported poll numbers.
The BZ Trump Stock Index
Notable stocks likely to benefit from a Trump Presidency are shown below and comprise the BZ Trump Stock Index. Each stock is weighted equally in the index.
Trump has often argued the United States needs to be energy independent and wants to reduce the EPA's regulatory power on energy companies such as Exxon and Chesapeake.
The Republican nominee has criticized the United States' poor military technology when compared to rivals such as Russia. One sector he has specifically mentioned was the air force, in which Lockheed Martin specializes. The Maryland-based company focuses on high quality and top-of-the-line-military technology.
Microsoft and Oracle both have about 90 percent of their entire cash holdings overseas. Trump said he would at least reduce the tax rate of cash traveling into the country as a one-time policy, providing Microsoft and Oracle with more flexibility.
All three companies could benefit from protectionary trade policies and all three are likely suppliers for the proposed Wall along the Mexican border. Additionally, Trump has called for the boycott of Komatsu Ltd (ADR) KMTUY, Caterpillar's main rival, in building the Wall of Mexico.
Have Trump Stocks Followed His Changing Poll Numbers?
Below is the spread between Trump and Clinton's poll numbers with the BZ Trump Stock Index on a percentage basis.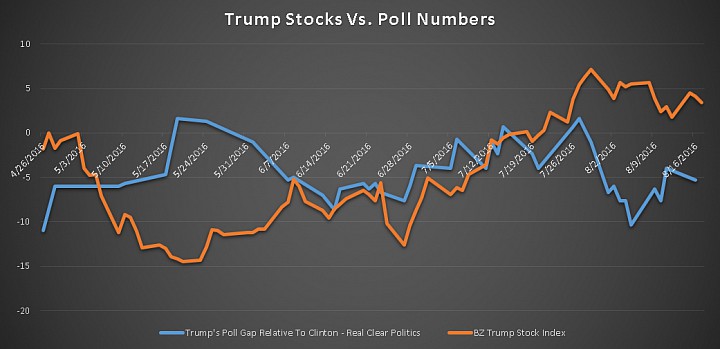 The two datasets have shown mixed correlation periods. The relationship between both of them grew stronger, starting in June after the RNC. During the first half of May, Trump's poll numbers and the BZ Trump Index seem to have a negative relationship. Perhaps investors didn't view pre-convention polling as an accurate indicator for the final presidential result in November.
Once the Republican Party started to unify during the convention, Trump's poll numbers started rallying alongside the Trump Stock Index. After the convention, Trump was leading Clinton by multiple percentage points, but his loathed Khan comments sent his poll numbers into a downtrend, and the BZ Trump Index followed.
Although the two data sets seem to have an inverse relationship before the Republican Convention, after the event, both data sets appear at least somewhat correlated.
Do you have ideas for articles/interviews you'd like to see more of on Benzinga? Please email feedback@benzinga.com with your best article ideas. One person will be randomly selected to win a $20 Amazon gift card!
© 2016 Benzinga.com. Benzinga does not provide investment advice. All rights reserved.