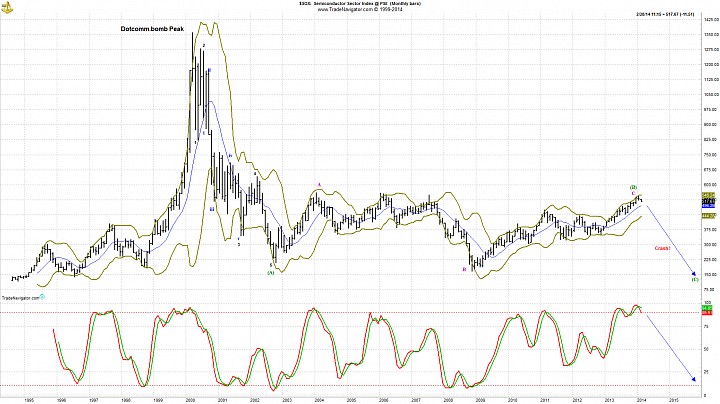 After the Dotcom Peak, stock indices were all weaker for the next couple years, as the semiconductors (shown here at the SOX Index – click chart for detailed view) crashed 85% from early '00 to early '02 in perfect Elliott Wave form (an orthodox five wave structure).
Since then, the past twelve years have seen a sideways consolidation of that crash, which now appears to have ended.  If accurate, the next few years is about to get very bad for this industry sector, and all that support it and/or benefit from it, as we've shown in the past month with our analysis of INTC, QCOM, etc.
I'm adding SSG (the leveraged-inverse ETF on the semiconductor sector) to my toolbox. We have entries and exits for WaveBOOM members.  Recently, prices have run into the resistance zone that turned rallies "off" in '04, '06, and '07. The monthly stochs are just crossing down from the most overbought extremes seen since '03.  Any bounce into 533 +/-2 should be used to run to the exits (if long) and enter shorts as this is a high-confidence forecast!