The USD/CAD was affected by poor US manufacturing data and a less dovish BoC monetary statement. We took a look at how the poor US data sent USD/JPY below a rising channel. Let's take a look at he BoC decision and how the combination of fundamentals effected the USD/CAD.
After the BoC made a surprise rate cut in January, the loonie has been weak against the USD. Many expected the BoC to hold the overnight lending interest rate at 0.75% today, but if the bank slashed it, i wouldn't have been that surprising because the of the dovish tone since January. 
However, BoC governor Stephen Poloz noted that the rate cut in January should be enough to support an economic recovery and that the economic downturn is slowing. Remember, Poloz had predicted a very weak economic in Q1. Traders priced in this expectation, which came to materialize as the growth rate in Q1 was zero.
Okay, let's take a look at USD/CAD:
USD/CAD Daily Chart 4/15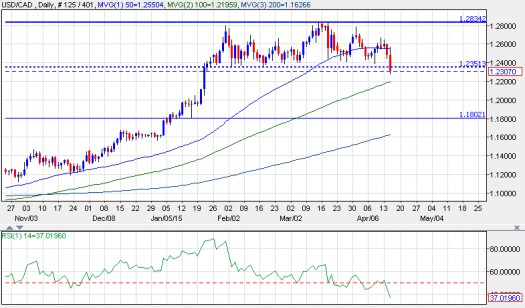 (Click to enlarge)
The daily USD/CAD chart shows that the market has stopped its uptrend in February after price tagged 1.28. Then, in March, there was a failed bullish breakout after which the pair continued o consolidate.
Today, after the BoC became less dovish, and after US data made expectations for the FOMC to be less hawkish, USD/CAD fell below the multi-month consolidation, which essentially completes a top.
We are now seeing the first dent in the USD/CAD's uptrend as price crosses under the 50-day SMA and as the daily RSI falls below 40, reflecting loss of the prevailing bullish momentum.
Now, the FOMC is still more hawkish relative to the BoC. Also, as major trading partners, the Canadian economy is somewhat anchored to the US economy. Therefore, the current bearish outlook from the breakout should be limited to the short-term.
The first level to monitor is likely 1.22, especially if the daily RSI dips below 30. If price stalls here, and the RSI rebounds, we should look for a pullback. As long as price holds under 1.26 in a pullback, the bearish outlook should still be in play.
Price action in January was sticky around 1.20, and that is another level to monitor for support, especially if the 1.22 fails to provide support for a pullback.
The most aggressive downside risk at the moment should be limited to the 1.18 handle.