Fossil Group Inc. FOSL just released its third quarter fiscal 2017 financial results, posting earnings of a loss of 11 cents per share and revenues of $689 million. Currently, FOSL is a #3 (Hold), and is down over 20% to $5.38 per share in trading shortly after its earnings report was released.
Fossil:
Beat earnings estimates. The watchmaker and accessories company reported earnings of a loss of 11 cents per share, beating the Zacks Consensus Estimate of a loss of 14 cents per share. Net loss for the quarter was $(5.4) million.
Beat revenue estimates. The company saw revenues of $689 million, also beating our consensus estimate of $653.23 million but decreased 7% year-over-year.
Global retail comps, including e-commerce sales, fell 6%, with declines in all product categories and all regions. In particular, watches declined 3%, but growth in connected watches were more than offset by a decline in traditional watches. Leathers and jewelry also declined compared to last fiscal year
For fiscal 2017, Fossil now expects net sales to decline in the range of 10.5% to 8.5%, with diluted earnings (loss) per share in the range of $(8.30) to $(7.75) per share.
"We're pleased to deliver third quarter sales and earnings that aligned with our expectations for the quarter. While our business and the retail environment remain challenging, we are continuing to make progress against key strategic initiatives that tell us we're on the right track. So far this year, we have tripled our wearables business and continue to see these amazing new products materially improve the trajectory of our watch business," said CEO Kosta Kartsotis.
Here's a graph that looks at Fossil's price, consensus, and EPS surprise:
Fossil Group, Inc. Price, Consensus and EPS Surprise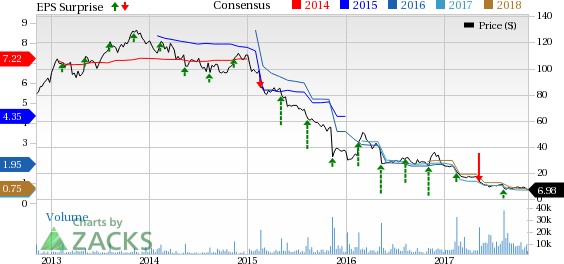 Fossil Group, Inc. Price, Consensus and EPS Surprise | Fossil Group, Inc. Quote
Fossil is involved in designing, marketing and distributing consumer fashion accessories. The Company's product portfolio includes men's and women's watches, handbags, belts, small leather goods, jewelery, sunglasses, hats, gloves and scarves, jeans, outerwear, fashion tops and bottoms, tee shirts as well as optical frames. Its brands include MICHELE, Zodiac, Relic, Emporio Armani, DKNY, Armani Exchange, Michael Kors, Diesel, Burberry, Marc by Marc Jacobs, Adidas, Skagen Denmark, and Karl Lagerfeld. Fossil Group Inc., formerly known as Fossil, Inc. is based in Richardson, Texas.
Zacks' Hidden Trades

While we share many recommendations and ideas with the public, certain moves are hidden from everyone but selected members of our portfolio services. Would you like to peek behind the curtain today and view them?

Starting today, and for the next month, you can follow all Zacks' private buys and sells in real time. Our experts cover all kinds of trades: value, momentum, ETFs, stocks under $10, stocks that corporate insiders are buying up, and companies that are about to report positive earnings surprises. You can even look inside portfolios so exclusive that they are normally closed to new investors. Click here for Zacks' secret trade>>
Want the latest recommendations from Zacks Investment Research? Today, you can download 7 Best Stocks for the Next 30 Days.
Click to get this free report
Fossil Group, Inc. (FOSL): Free Stock Analysis Report
To read this article on Zacks.com click here.
Zacks Investment Research