U.S. utility provider, Avista Corp. AVA recently announced that it has signed a deal with its Canadian counterpart, Hydro One Ltd. Per the terms, Hydro One will take over Avista for a total cash of $5.3 billion. The merger is expected to close in the second half of 2018, and is still subject to approval from common shareholders and various regulatory authorities.
According to most of the media sources, Avista's shares took a 17–19% surge soon after the deal surfaced, in after-hour trading.
Details of the Merger
The deal is aimed at creating one of North America's largest regulated utilities, which will serve more than two million customers across the region. The new company will set up headquarters in Toronto.
On completion of the merger, Avista will keep its existing corporate headquarters in Spokane, WA. The company's management team and employees will also retain their positions. Moreover, the company will go on with its operations in the states of Washington, Oregon, Idaho, Montana and Alaska as a standalone utility.
Further, Avista's operations will continue to be supervised by its own board of directors. This will ensure the protection of the interests of the Pacific Northwest and the communities it serves.
Benefits of the Merger
As a result of the merger, Avista's shareholders will receive $53 in cash per common share, which reflects a 24% premium to the share price as of Jul 18, 2017. The deal will be accretive to Hydro One's earnings per share in the mid-single digits in the first full year of operation.
From a strategic point of view, this acquisition deal will combine two industry-leading regulated utilities with over 230 years of collective operational experience and combined assets worth $25.4 billion. This, in turn, will enable the new entity to provide safer, reliable and high quality energy with a greater scale, diversity and financial flexibility.
This merger is a notable one from an economic point of view as well, as it will involve no employee layoff from either of the two companies. Moreover, the rates at which customers of both Hydro One and Avista receive their electricity, will remain unchanged.
Our Take
Energy services in North America were operated under monopoly conditions throughout most of the 20th century. Following Federal Energy Regulatory Commission's (FERC) Energy Policy Act of 1992, deregulation moved into the electricity market in the region. This, in turn, promoted a healthy competitive business environment, encouraging more energy providers to foray into this market.
In recent times, the states in the region, particularly those located in the Pacific Northwest, have been experiencing rapid customer and economic growth. To cater to this burgeoning market in here and expand into new lines of regulated utility business outside of its home country, Hydro One chose to take over Avista that has a strong presence in this side of the U.S.
We believe this is in sync with the recent trend of continued interest from Canadian investors in US-based utility providers as has been witnessed in the first quarter of 2017. Per a report by PWC, there were two inbound deals in the quarter representing 56% of total value in the North American power and utilities deals.
Moreover, the combined expertise of these two companies will allow the new entity to deliver cost-efficient and more effective utility services to its customers. Further, since the new entity will not levy the cost of this deal on its customers by raising electricity rates, it may also attract more consumers, apart from boosting investors' optimism in the stock's growth expectations.
Price Performance
Over the last one year, Avista has outperformed the Zacks categorized Utility- Electric Power industry. During this period, the company's shares gained 0.3%, compared with the industry's loss of 1.6%. This could be because the company's strong financials enable it to execute investor-friendly measures at regular intervals. Avista also poses strong competition to its peers like Atlantica Yield PLC ABY, Eversource Energy ES and Alliant Energy Corp. LNT.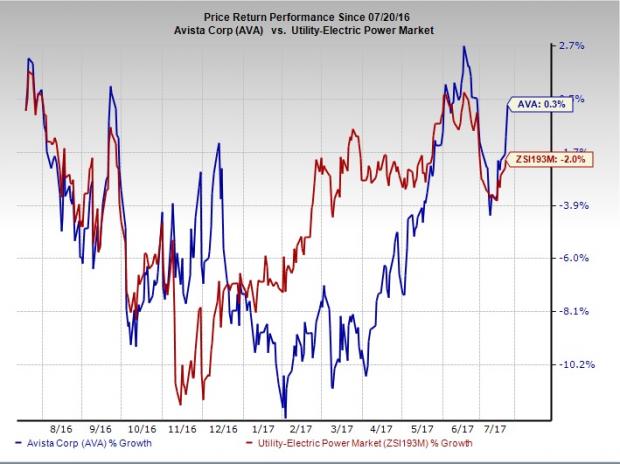 Zacks Rank
Avista currently carries a Zacks Rank #3 (Hold).You can see the complete list of today's Zacks #1 Rank (Strong Buy) stocks here.
3 Top Picks to Ride the Hottest Tech Trend
Zacks just released a Special Report to guide you through a space that has already begun to transform our entire economy...
Last year, it was generating $8 billion in global revenues. By 2020, it's predicted to blast through the roof to $47 billion. Famed investor Mark Cuban says it will produce ""the world's first trillionaires,"" but that should still leave plenty of money for those who make the right trades early. Download Report with 3 Top Tech Stocks >>
Want the latest recommendations from Zacks Investment Research? Today, you can download 7 Best Stocks for the Next 30 Days.
Click to get this free report
Avista Corporation (AVA): Free Stock Analysis Report
Alliant Energy Corporation (LNT): Free Stock Analysis Report
Atlantica Yield PLC (ABY): Free Stock Analysis Report
Eversource Energy (ES): Free Stock Analysis Report
To read this article on Zacks.com click here.
Zacks Investment Research