Boeing's shares will reach $155 in medium term

29 january 2015
Aerospace giant Boeing issued stellar financials for the fourth quarter of 2014. Revenues rose 3% y-o-y to $24.5 bn, comfortably surpassing consensus estimate of $23.8 bn. The growth was driven by Commercial Airplane Segment that saw a 15% increase in revenues to $16.8 bn on higher delivery volume. In Q4, Boeing delivered 195 commercial airplanes, up 13.4% from the year-ago figure. During the quarter, the Next Generation 737 model proved its popularity once again, with deliveries of 126 airplanes, followed by its 787 model with 35 deliveries. In full-2014, the company delivered 723 commercial planes, a growth of 11.6%. Defense, Space & Security segment however witnessed a 14% decrease in its quarterly revenues to $7.8 bn. Adjusted operating income jumped 28% y-o-y to $2.34 bn, and operating margin climbed 1.9 percentage points to 9.6%. Adjusted EPS rose 23% y-o-y to $2.31 and were well ahead of analysts' forecast of $2.07.
Boeing ended 2014 with cash and cash equivalents of $11.7 bn and short-term investments of $1.4 bn, long-term debt stood at $8.14 bn. In Q4, the company generated $5.03 bn of operating cash flow, repurchased 7.8 mn shares for $1 bn and paid $0.5 bn in dividends. Based on the strong cash generation and outlook, in December, the board of directors increased the share repurchase authorization to a total of $12 bn, replacing the authorization approved in 2013 of which approximately $4.8 bn was remaining. Share repurchases are expected to be made over the next two to three years.
Backlog at the end of 2014 increased to $502.3 bn from $440.9 bn at the end of 2013. Reported backlog included $152 bn of net orders during the year. In Commercial Airplane Segment, backlog reached 5,800 airplanes valued at a record $440 bn. Backlog at Defense, Space & Security segment stood at $62 bn, 36% of which comprised orders from international clients.
Our outlook for Boeing remains optimistic taking into account rising demand for the company's fuel-efficient commercial planes. Boeing once again reported industry record deliveries in 2014, retaining its position as the world's biggest airplane maker. In 2015, the company expects to deliver 750-755 commercial airplanes, while revenues are pegged in a band of $94.5-96.5 bn, with operating margin of 9.5-10%.
I think Boeing's shares are attractive for medium-term investment. Ttarget price is $155.  
<!== INSTRUMENT %% %1440% ==!>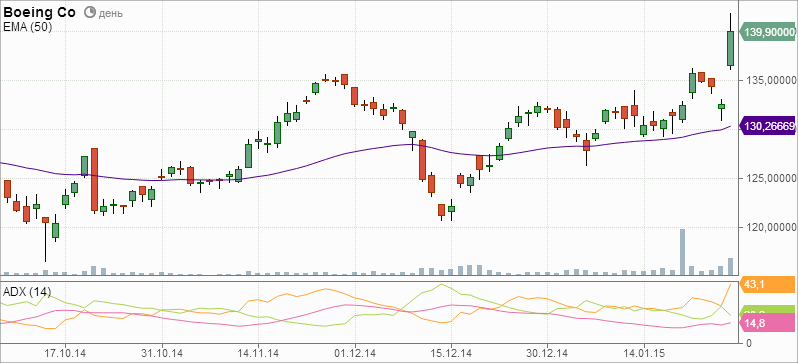 Voting is over
Waiting for


the right answer