Activist hedge fund, Raging Capital Management, managed by William C Martin gained 0.8% net of all fees and expenses during the second quarter. Year to date the fund is up 1.8% net, according to a letter to investors reviewed by ValueWalk.
Since inception (April 2006) the Raging Capital Master Fund -- Series B has returned 620.6%, a compound annual growth rate of 23.8%, compared to the S&P 500's total return of 94%, a CAGR of 7.4%.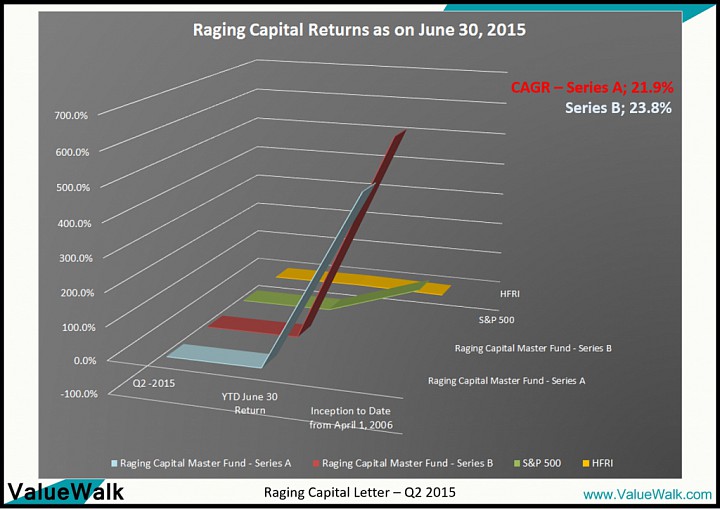 Raging Capital: Market currents
In Raging Capital's second quarter letter to investors, the fund weighs in on the present state of the market, noting that throughout the entire second quarter, the S&P 500 traded in a tight 45 point range, just 2.2%. Raging Capital goes on to quote Jim Tisch, CEO of Loews Corp., who commented on Loews' last earnings call that:
"I think that, after all of these years of low interest rates and quantitative easing, what we have is markets, both fixed-income and equity markets, that are priced for perfection. When you look at companies that are auctioned in the private-equity world, what I would say is that 10x [EBITDA] is the new 6x. And, yes, interest rates are low, but still it seems to me that even though you can finance at low rates, there just isn't enough room for return for the equity holder at these kinds of valuations."
Raging Capital is struggling to find attractively priced opportunities in the current market. During the first half, the fund's net long exposure was 52%, consistent with Raging's the 40% to 60% net long target. Average gross exposure on the short side was 68%, in the middle of Raging's 60% to 75% target range. However, the fund's long book is, in its own words, "more eclectic and contrarian than normal given the...
More