Celgene Corporation is a biotechnology company that specializes in manufacturing drug therapy for cancer and inflammatory disorders. The company's major products are Thalomid, Revlimid and Pomalyst. Thalomid is approved for the treatment of the cutaneous manifestations of erythema nodosum leprosum. Revlimid is the market share-leading first- and second-line therapy for multiple myeloma and transfusion-dependent anemia. It also markets Pomalyst, which is a leading third-line treatment for multiple myeloma and the share of Pomalyst on the market is growing quickly. What's more, Celgene also receives considerable royalties from Novartis AG on sales of the Ritalin family of drugs which is widely used to treat ADHD.
These drugs are expected to allow Celgene to record its sales and EPS this year to around $9 billion and $4.75, respectively. By 2020 Celgene hopes to have its sales of around $21 billion which is more than a double of this year's expected sales. EPS is anticipated to be more than $13. Such ambitious goals are explained not only by the company's already top-selling medications. Recently, Celgene also acquired multiple sclerosis therapy which is currently in the phase 3 trials. This treatment is expected to have a considerable positive impact on the sales of the company.
Additionally, Celgene heavily invests in collaboration and new pipeline candidates that could lead to several other drug approvals in the next 10 years. This in turn can fuel even higher sales and profit growth.
On July 14th, 2015 Celgene announced a signing of a definitive agreement to acquire Receptos, Inc. for approximately $7.2 billion or $232 per share. This deal allows Celgene to significantly enhance its Inflammation and Immunology portfolio. Ozanimod, Receptos' new product, has all the potential to become the number one treatment.
Few days earlier it became known that Celgene remapped its partnership with Epizyme, a clinical stage biopharmaceutical company, which discovers and develops epigenetic therapies for cancer patients. The two companies extended their partnership for three more years.
This information caused the share price of Celgene to go up considerably and stay at the same high level for more than a month.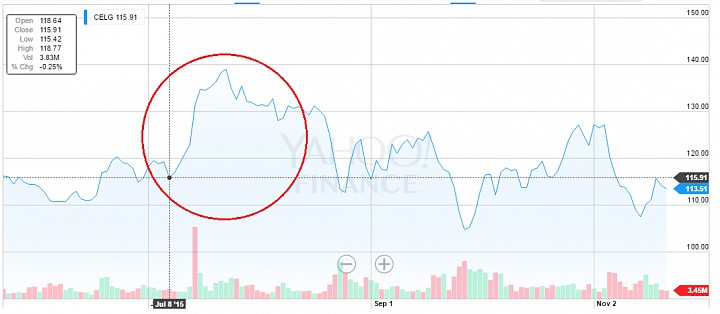 The brutal fall of the share price was experienced by the company on September 28th. The biotech stocks suffered the worst weekly slam in seven years due to Hilary Clinton's tweet about price gouging by big pharma companies. What's more, the news that Verastem's lead drug flopped in the 2nd Phase made the situation even worse. Though, Celgene's stock quickly recovered and its price was growing till November 4th.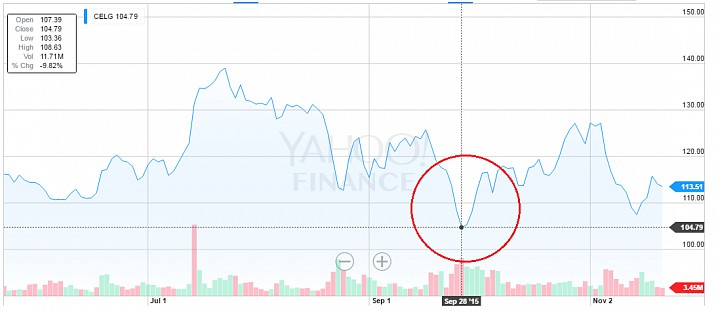 On November 5th, the company announced its third quarter results, which were slightly below consensus In part due to lower revenue from cancer drug Abraxane. These results caused the stock to fall, though they were 18% higher than the ones from the last year.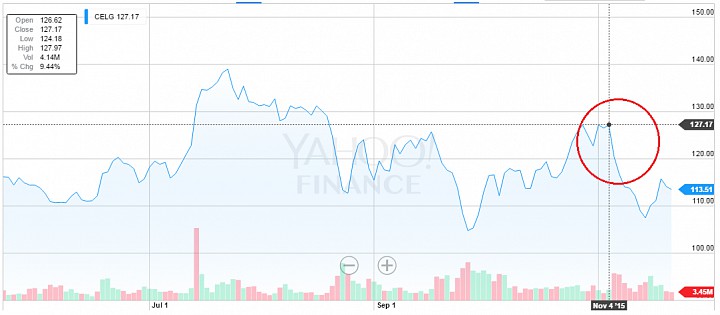 However, Celgene continues to grow its top line very quickly. So far it increased by 20% this year. It's important to remember that volume is a major driver rather than price.
If we turn to some technical analysis indicators, then, for instance, Bollinger Bands may be interpreted as a signal to buy, though currently the stock price is the range.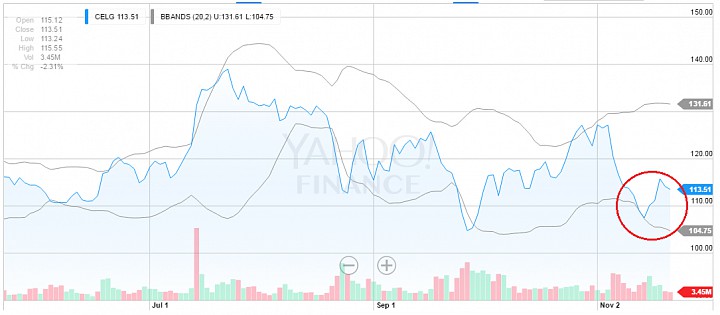 Several research analysts set an objective price for the stock ranging from $140.00 to $152.00. Currently the company has a consensus rating of Buy with a target price of $152.36. The average analysts' rating is 1.8 and this year's EPS growth is 42.30%.
Celgene already has top-selling medications and is in the process of developing a new wave of potential blockbusters. That's why it is a company that investors won't have to worry too much about and will still get impressive results.