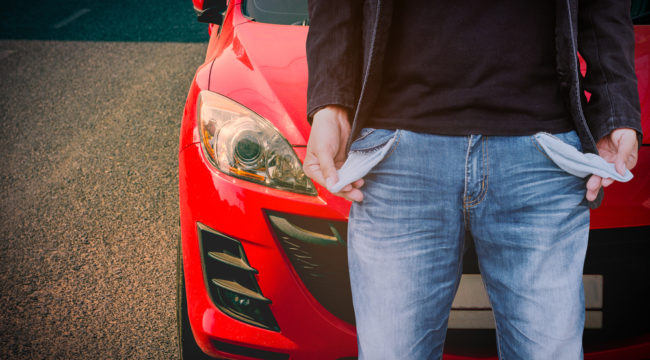 Back in the 1950s when GM had 50% of the auto market they always said that, "As General Motors goes, so goes the nation."
That was obviously a tribute to GM's economic muscle and its role as the driver of growth and rising living standards in post-war America's booming economy. Those days are long gone for both GM and the nation. GM's drastically reduced 20% market share of U.S. light vehicle sales in June was still an economic harbinger, albeit of a different sort.
GM offered a record $4,361 of cash incentives during June. That was up 7% from last year and represented 12% of its average selling price of $35,650 per vehicle, also a record. But what it had to show for this muscular marketing effort was a 5% decline in year-over-year sales and soaring inventories. The latter was up 46% from last June.
My purpose is not to lament GM's ragged estate, but to note that it — along with the entire auto industry — has become a ward of the Fed's debt-fueled false prosperity. The June auto sales reports make that absolutely clear.
In a word, consumers spent the month "renting" new rides on more favorable terms than ever before. But that couldn't stop the slide of vehicle "sales" from its 2016 peak.
In fact, June represented the 6th straight month of year-over-year decline. And the fall-off was nearly universal — with FiatChrysler down 7.4%, Ford and GM off about 5% and Hyundai down by 19.3%.
The evident rollover of U.S. auto sales is a very big deal because the exuberant auto rebound from the Great Recession lows during the last six years has been a major contributor to the weak recovery of overall GDP.
In fact, overall industrial production is actually no higher today than it was in the fall of 2007. That means there has been zero growth in the aggregate industrial economy for a full decade.
Real production in most sectors of the U.S. economy has actually shrunk considerably, but has been partially offset by a 15% gain in auto production from the prior peak, and a 130% gain from the early 2010 bottom.
By comparison, the index for consumer goods excluding autos is still 7% below its late 2007 level.
So if the so-called "recovery" loses its automotive turbo-charger, where will the growth come from?
These industrial production figures powerfully underscore the extent to which the weak expansion of real sales and GDP over the past seven years has been artificially supported by an energetic but unsustainable snapback in the auto sector. The soft June auto sales report further underscores that this happy booster shot is now over. Its opposite — Carmageddon — is metastasizing rapidly.
Still, booming economic growth is exactly what is priced into the still soaring...
More