Apple Inc. (NASDAQ:AAPL) has finally announce the release of the iPhone 6S, with the smartphone expected to hit the stores on September 25. The Apple handset will be going up against the Galaxy S6, the flagship offering from Samsung Electronics Co., Ltd. (LON:BC94) and Apple's most obvious rival in the marketplace. So how do the two smartphones prepared to one another? Here is a rundown of all the key details that we know about the iPhone 6s and Galaxy S6 at the time of writing.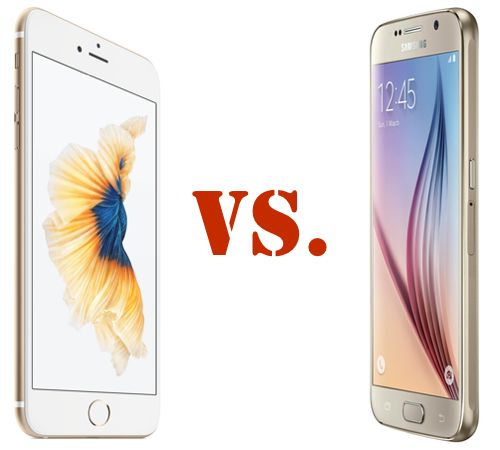 The Galaxy S6 will always have its work cut out in this department, as the iPhone range is probably the most iconic piece of consumer hardware in the world. Apple has built its reputation by producing devices that are particularly impressive in terms of physical construction. And the iPhone 6s is no exception to this rule, and also features improved durability thanks to the inclusion of series 7000 aluminum. Certainly Samsung has closed the gap in this department, but the iPhone is still the most sought-after smartphone in the world, and this won't change with the iPhone 6s.
Size and Weight
This is not too much difference between these two devices in terms of size and weight. The iPhone 6s is somewhat the more compact of the two devices, with measurements of 5.44 x 2.64 x 0.28 inches. By comparison the Galaxy S6 consists of dimensions of 5.59 x 2.75 x 0.27 inches. The iPhone 6s is marginally heavier than the Galaxy S6, but this is literally by the order of a couple of grams.
Display
Samsung has particularly specialized in producing high-quality displays in recent years, especially since it became the world's largest seller of television sets back in 2008. So we could naturally expect the Galaxy S6 to excel in this department, but the gap between the premium Samsung smartphone and the iPhone 6s should be considered something of a concern for apple.
It was widely expected that Apple would improve the screen quality in the iPhone 6s. But the consumer electronics giant has confirmed that the iPhone 6s will retain the display resolution from the last generation iPhone 6. This means that we still haven't seen a smartphone-sized full HD...
More