Brazil, increasingly concerned about its currency being sold off, has
decided to undertake a fairly massive intervention program - worth up to $60 billion. What a difference a year or two makes as its was Brazil which was one of the loudest critics of the "currency wars" and its currency appreciating.

Here's a look at some of the major emerging market currencies and their performance over the last year-and-a-half (courtesy of
Financial Times
):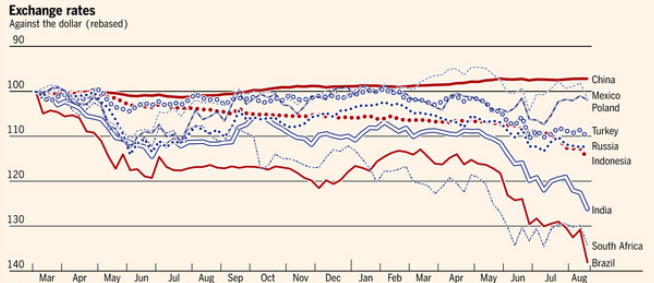 And here's the details to the intervention from
Bloomberg
:
"Starting today, the central bank will auction $1 billion of dollar loans every Friday and offer the equivalent of $500 million worth of foreign-exchange swaps a day on Mondays, Tuesdays, Wednesdays and Thursdays, according to a statement late yesterday. The program will run through Dec. 31.

The currency intervention program comes in addition to swap and credit-line actions already announced this year worth $45 billion. Before today, the central bank had been auctioning swaps and loans without an established schedule, and the sales were less frequent.  "

The sums involved here should get the market's attention and may help other emerging markets as it signals that other central banks may attempt to intervene as well. Indonesia also took steps to halt its currencies slide. As a result, Friday's session has seen a bit more calm in the emerging market space and if calm turns to bottom picking, these currencies may get a dead-cat bounce to start next week.
- Nick