The 6/25 session provided us with some very weak US data, disappointing an already pessimistic resignation of Q1 GDP. We also had unexpectedly soft durable goods orders data, which adds concerns whether Q2 will pick up as fast as many thought.
The annualized Q1 GDP was revised to -2.9%, from the 2nd estimate of -1.0%. Economists and market watchers knew a downward revision was in order, but expected around a -1.5% to -1.8% reading. 

(source:
forexfactory
)
As you can see, this is the worst reading since Q1 2009, when it was -5.5%. According to Bloomberg.com, the downward revision from -1.0% to -2.9% was the sharpest such since records began in 1976.
Durable Goods Orders data has historically been volatile from month to month. May's reading came in at -1.0%. The April reading was revised down to 0.6%. Economists forecast a -0.1% reading for May. 
Core Durable Goods Orders fell in May at -0.1%, down from the upwardly revised 0.3% in April. Economists expected a 0.3% reading for May.


(source: forexfactory.com)

The 1H USD Index shows the reaction to the poor US data. The USDX fell from an intra-session high of 80.35 to about 80.10. This broke below the previous low on the month, which was at 80.15.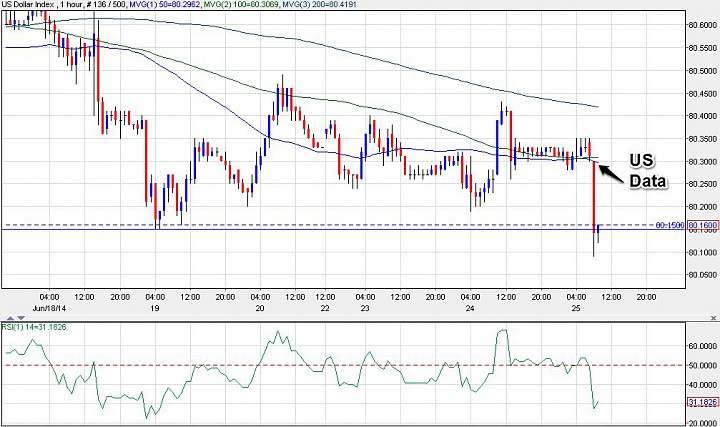 (usdx 1h chart, 6/25)

This dip is continuing a short-term bearish trend that started at the beginning of June. The next support will be in the 79.89-80 area.