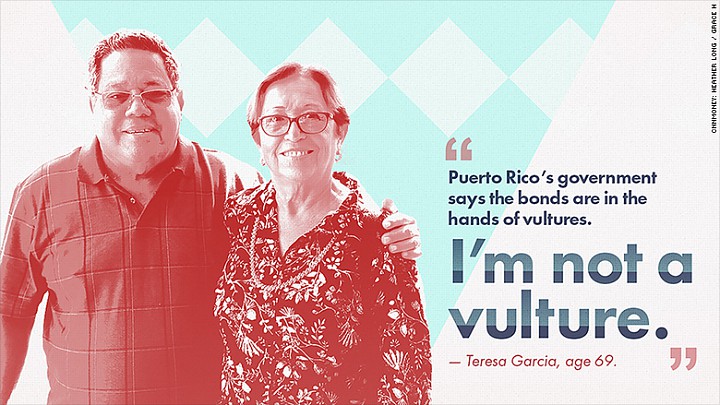 Vultures. People who lent Puerto Rico money and now expect to be paid are being portrayed as greedy vultures.
But Puerto Rico's $70 billion debt crisis isn't just a battle between New York hedge funds and a cash-strapped little island.
About 30% of the debt is held by middle class Puerto Ricans like Teresa and Julio Garcia. Another 15% is held by other "average Joe" Americans who invested in bond funds.
"The government says the bonds are in the hands of vultures. That's not true," says Teresa, a life-long Puerto Rican. "I'm not a vulture."
The Garcias are retirees. They gush about their grandchildren. And they love Puerto Rico. Teresa was born in the city of Ponce -- "the most beautiful place," she claims.
When the Garcias used their life savings to buy about $500,000 worth of Puerto Rican bonds in 2005, they thought it was a safe -- and patriotic -- investment. The bonds were AAA rated and backed by the government.
What seemed like a win-win is now a nightmare for the Garcias. They've lost over $200,000.
Many Puerto Ricans face a triple whammy of pain: their bonds are worth a lot less, their taxes are going up and their home values are plunging because of a mass population exodus from the island.
In a special investigation, CNNMoney met with numerous Puerto Rican bondholders. Their stories put a face on the crisis. The government's latest proposal to pay bondholders roughly half what they are owed would hurt hedge funds, but also regular people.

Joaquin Garcia de la Noceda is 57. He's not sure he'll ever be able to retire because of the Puerto Rican bond crisis.
In 2001, he invested about $200,000 in the bonds. He says his initial investment has fallen 60%.
De la Noceda is a locksmith, not an investment expert. His financial advisor recommended buying the bonds. Now the advisor claims, "This is something that no one anticipated."
"People say the rich will pay...
More