Apparently, someone at the Pentagon thought that between the four-year civil war in Syria, the heightened violence in Turkey, the proxy war in Ukraine, and the threat of a new war in the Korean Peninsula, the geopolitical situation wasn't unstable enough, because on Thursday the DoD issued a report entitled "Asia Pacific Maritime Security Strategy," in which a considerable amount of space is spent discussing China's land reclamation efforts in the Spratlys. 
As you might recall, Beijing has embarked on an ambitious effort to build artificial islands atop reefs in the disputed waters of the South China Sea. The US and its regional allies say it's an illegitimate attempt to redraw maritime boundaries and project military supremacy while China claims it's simply doing what other countries in the region have been doing for years. The dispute came to a head earlier this year when the PLA essentially threatened to shoot down a US spy plane carrying a CNN crew.
Below, find some interesting and provocative commentary from the Pentagon about the islands along with some telling visuals. Note that Beijing is all but sure to view this as an escalation. 
*  *  *
From Asia Pacific Maritime Security Strategy
One of the most notable recent developments in the South China Sea is China's expansion of disputed features and artificial island construction in the Spratly Islands, using large-scale land reclamation. Although land reclamation – the dredging of seafloor material for use as landfill – is not a new development in the South China Sea, China's recent land reclamation campaign significantly outweighs other efforts in size, pace, and nature. 
China's recent efforts involve land reclamation on various types of features within the South China Sea. At least some of these features were not naturally formed areas of land that were above water at high tide and, thus, under international law as reflected in the Law of the Sea Convention, cannot generate any maritime zones (e.g., territorial seas or exclusive economic zones). Artificial islands built on such features could, at most, generate 500-meter safety zones, which must be established in conformity with requirements specified in the Law of the Sea Convention.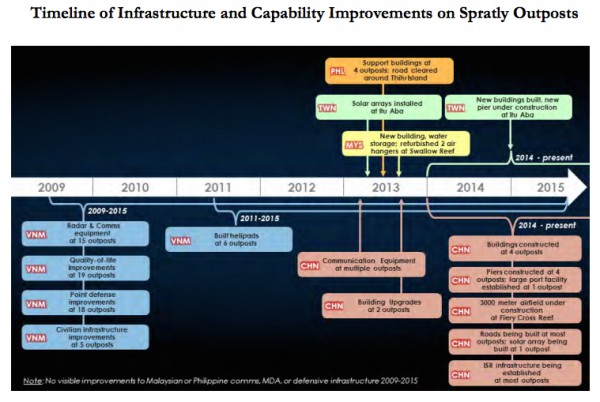 Although China's expedited land reclamation efforts in the Spratlys are occurring ahead of an anticipated ruling by the arbitral tribunal in the Philippines v. China arbitration under the Law of the Sea Convention, they would not be likely to bolster the maritime entitlements those features would enjoy under the Convention. Since Chinese land reclamation efforts began in December 2013, China has reclaimed land at seven of its eight Spratly outposts and, as of June 2015, had reclaimed more than 2,900 acres of land. By comparison, Vietnam has reclaimed a total of approximately 80 acres; Malaysia, 70 acres; the Philippines, 14 acres; and Taiwan, 8 acres. China has now reclaimed 17 times more land in 20 months than the other claimants combined over the past 40 years, accounting for approximately 95 percent of all reclaimed land in the Spratly Islands. 
Though other claimants have reclaimed land on disputed features in the South China Sea, China's latest efforts are substantively different from previous efforts both in scope and effect. The infrastructure China appears to be building would enable it to establish a more robust power projection presence into the South China Sea. Its latest land reclamation and construction will also allow it to berth deeper draft ships at outposts; expand its law enforcement and naval presence farther south into the South China Sea; and potentially operate aircraft – possibly as a divert airstrip for carrier-based aircraft – that could enable China to conduct sustained operations with aircraft carriers in the area.
Ongoing island reclamation activity will also support MLEs' ability to sustain longer deployments in the South China Sea. Potentially higher-end military upgrades on these features would be a further destabilizing step. By undertaking these actions, China is unilaterally altering the physical status quo in the region, thereby complicating diplomatic initiatives that could lower tensions.
Ndaa a p Maritime Security Strategy 08142015 1300 Finalformat