Mortgage applications rose 25.5% week-over-week - the 2nd largest surge since 2009 - to the highest level (for this time of year) since 2012. Both refis and purchases soared, and exuberance immediatoley extrapolated this surge as 'proving' the housing recovery is healthy. However, as MBA admits, "many applications were filed prior to the TILA-RESPA regulatory change," strongly suggesting this is anything but sustainable.
2nd biggest week-over-week gain in mortgage apps since 2009...
Both applications to refinance and to purchase a home were almost equally juiced. Refinance applications rose 24 percent, seasonally adjusted, and purchase applications were up by 27 percent. Purchase applications, which are usually less rate-sensitive week-to-week, are now 49 percent higher than one year ago, an astonishing jump given that the latest reads on home sales show the market appears to be weakening. They are now at the highest level in five years.
This pushes the overall mortgage application index to its highest for this time of year since 2012... but note mortgage apps remain half what they were at the previous peak norms.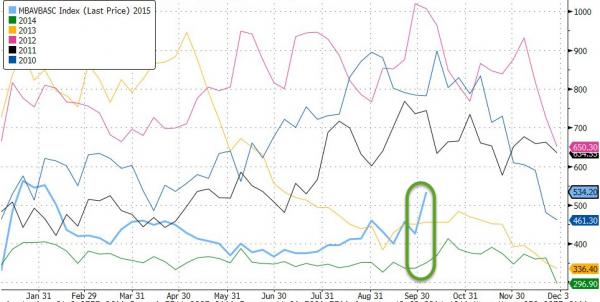 But as CNBC's Diana Olick notes,
"The number of applications for purchase and refinance mortgages soared last week due both to renewed rate volatility and as many applications were filed prior to the TILA-RESPA regulatory change," said Lynn Fisher, the MBA's vice president of research and economics.

 

The change is part of a move by federal regulators to further protect borrowers by forcing lenders to disclose all details of a loan at least three days prior to closing; it went into effect October 3rd.
*  *  *
Ironically, despite one of the unstated goals behind Yellen's rate hike cycle being to get mortgage buyers to buy ahead of a rate hike; instead we got a major slowdown and all buyers were apparently waiting for was the latest drop in rates to pile back in.
*  *  *
But amid haunting echoes of 2004-2007, Reuters reports JPMorgan Chase & Co, looking to stem falling revenue in its mortgage business as fewer Americans refinance, is increasingly buying loans from smaller lenders, a practice that competitors including Bank of America view as risky.
In the first half of 2015, the bank bought 62 percent of the $58 billion in home loans it added to its books, compared with 56 percent in 2014 and 37 percent in 2011.

 

While other big banks buy mortgages from other lenders, known as correspondents, JPMorgan has racked up the biggest increase among its peers in the proportion of loans it buys from others, according to data from trade publication Inside Mortgage Finance. JPMorgan is fighting for business in what has been a shrinking market.

 

"There's more risk in being that far away from the customer," said D. Steve Boland, the Bank of America executive in charge of mortgage and auto lending. For example, a smaller lender could fail to verify a borrower's income properly, and just sell the loan on to a bigger bank.
So yet again - exogenous demand (JPM buying pressure) may enable smaller lenders to deliver more end-product (beget more supply) in just the kind of vicious circle we have seen before that ends so badly.