Bullish with Bearish Anticipation: I am bullish on Netflix in the long-term, but it looks like it is in a longish medium-term consolidation since August of 2015. From the look of the weekly chart, we can say that a long-term bullish trend is taking a significant break and price has turned neutral in the medium-term. After last week's slide, it even looks bearish in the short to medium-term. 

NFLX Weekly Chart 4/27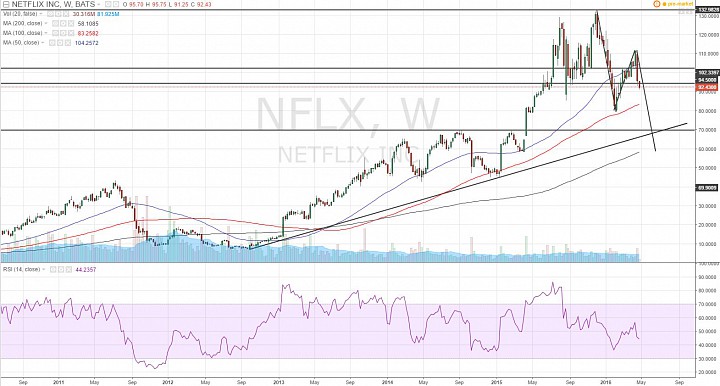 (click to enlarge)

ABC Correction: On the weekly chart, I projected an ABC correction, where the downward legs A and C are of the same nominal price length. This projection anticipates downside risk to 60. 

Support: However, we can see that there will be support factors around 70 as well. 1) Previous resistance pivots and 2) a rising trendline from the 2012 low. 

Trade Consideration: For me, a slide to 70 would be a buy-on-a-dip scenario. I would still look for price action to stall for at least a week before considering strong enough buying interest to join the rally attempt. I would allow some consideration for scaling in a larger position if price falls further towards 60. This would mean increasing exposure for the benefit of lowering the cost-basis and therefore improving reward-risk profile. 

Before last week, I was not even dreaming of this scenario, but the strong dip gave me some hope that something like an ABC correction is possible.