Thursday last week the Federal Reserve surprised investors when it didn't increase interest rates as expected. Though higher rates have already been priced into stocks, the Fed decided to keep its key interest rate unchanged, at least for the time being. The Fed did have plenty of reasons to boost the federal fund rate due to strong real GDP growth in the second quarter, personal income growth, and improving employment figures, but the central bank decided yet again to coddle investors. According to the FOMC statement from last week [emphasis added]:
To support continued progress toward maximum employment and price stability, the Committee today reaffirmed its view that the current 0 to 1/4 percent target range for the federal funds rate remains appropriate. In determining how long to maintain this target range, the Committee will assess progress--both realized and expected--toward its objectives of maximum employment and 2 percent inflation. This assessment will take into account a wide range of information, including measures of labor market conditions, indicators of inflation pressures and inflation expectations, and readings on financial and international developments. The Committee anticipates that it will be appropriate to raise the target range for the federal funds rate when it has seen some further improvement in the labor market and is reasonably confident that inflation will move back to its 2 percent objective over the medium term.
On a side note: How much more improvement in the labor market does the Committee need to see? Unemployment in August was just 5.1%...but that's another story.
In any case, the Fed's decision to not boost interest rates helped real estate investment trusts, including Realty Income (NYSE:O) whose stock gained ~2.7% in value on Thursday and Friday. Investors apparently like to buy REITs when interest rates are low, or stay low for that matter, but they are also likely to sell when the Fed finally decides it is time for 'lift off'. That's irrational, but it is what it is.
I beat this drum in the past and contended that investors are overestimating the importance of rate hikes.
In fact, the odds are that Realty Income and other real estate investment trusts will continue to collect the rents from their property portfolios independent of whether interest rates are high or low. This discussion is completely ignored when it comes to REITs and their dividend potential. I'd even go so far and say that higher interest rates will have no impact at all on Realty Income's business and its dividend potential, because a period of rising rates will go hand in hand with growing rental revenues and FFO.
Waiting for another sell-off?
Investors buy Realty Income when rates don't move. Similarly, they could opt to sell Realty Income when the Fed eventually moves rates. When the Fed starts a new interest rate cycle, there might indeed be some selling pressure on REITs, which in turn would be another major buying opportunity. In any case, it doesn't hurt to have some cash ready should Realty Income fall back towards $40-$43 per share.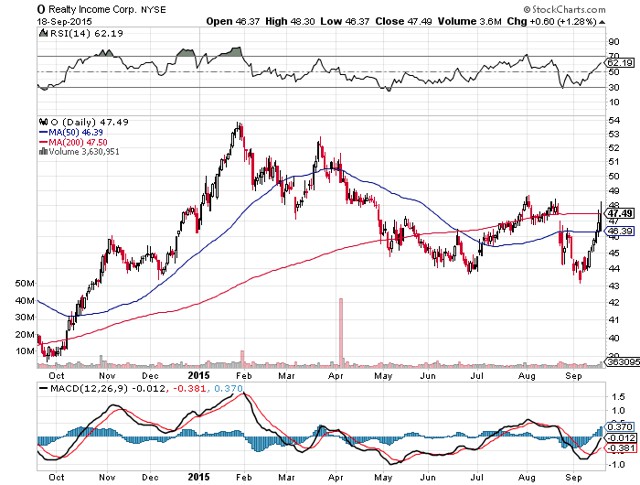 Source: StockCharts.com
The Fed is doing what investors love: Not changing interest rates. Whether low interest rates are in the long-term interest of the country/economy is another discussion. The recovery rally in REITs and Realty Income underlines that investors are too concerned about the Fed. Realty Income has paid and grown dividends in low and high interest rate markets, so I'd argue that the benchmark interest rate level in the U.S. economy is not a key factor for Realty Income's real earnings and dividend power. When the Fed announced a rate hike, there is a good chance that irrationality returns to the market, which would then be an ideal buying window.
More