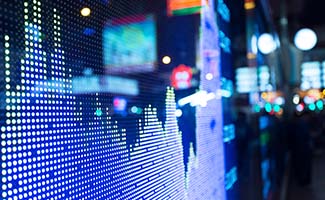 (RTTNews.com) - After an initial move to the upside, stocks turned mixed over the course of the trading session on Thursday. While the Nasdaq and the S&P 500 pulled back into negative territory, the Dow reached a new record closing high.
The Dow rose 85.54 points or 0.4 percent to 21,796.55, but the Nasdaq fell 40.56 points or 0.6 percent to 6,382.19 and the S&P 500 edged down 2.41 points or 0.1 percent to 2,475.42.
The early strength on Wall Street reflected a positive reaction to earnings news from some big-name companies, with Verizon (VZ) and Facebook (FB) moving notably higher.
On the U.S. economic front, the Commerce Department released a report before the start of trading showing a substantial increase in durable goods orders in the month of June.
The Commerce Department said durable goods orders spiked by 6.5 percent in June after edging down by a revised 0.1 percent in May.
Economists had expected durable goods orders to surge up by 3.0 percent compared to the 1.1 percent drop originally reported for the previous month.
Excluding a jump in orders...
More