Summary
Biotech Juggernaut Gilead Sciences has dropped some 20% from recent highs of north of $120.00 a share during the recent sell-off in the biotech sector and the overall market.
This brings this core position in any well-diversified biotech portfolio back down to almost absurdly low valuations compared to the overall market.
Long term investors should view anything less than $105.00 a share as a gift given Gilead's valuation and upcoming catalysts. This "sale" is unlikely to last long.
Biotech juggernaut Gilead Sciences (NASDAQ:GILD) has pulled back some 20% from recent highs as the stock has got caught up in the large sell-off in the volatile biotech sector and the correction in the overall market over the past six weeks or so. As I stated early in July, the market was overdue for at least a 10% decline before yearend for a variety of reasons.
Now that this correction has indeed come to pass, I have been selectively buying myriad large biotech concerns on dips with the 30% cash allocation within my portfolio I had built up early in the summer. On the top of that list is Gilead Sciences as anything below $105.00 a share has to be considered a "gift" by long term investors.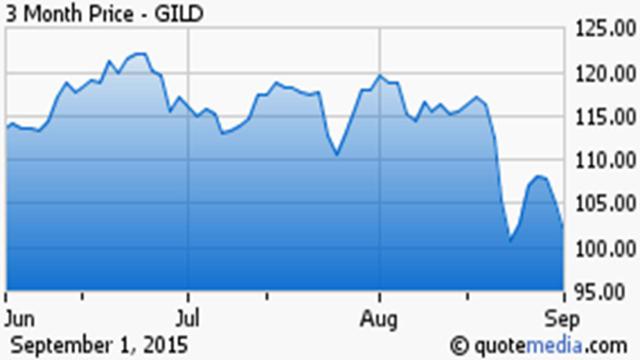 By any measure, Gilead was very cheap before the latest pull back and now is getting into absurdly cheap levels. Not only is the company very attractive on a valuation basis, it dominates both the HIV & Hepatitis C spaces and has a deep and evolving pipeline. Let's take a look at Gilead's value story from different angles.
Valuation & Hepatitis C Franchise:
After almost quadrupling earnings in FY2014 on the launch of its blockbuster hepatitis C franchise to just over $8.00 a share, profits are...
More