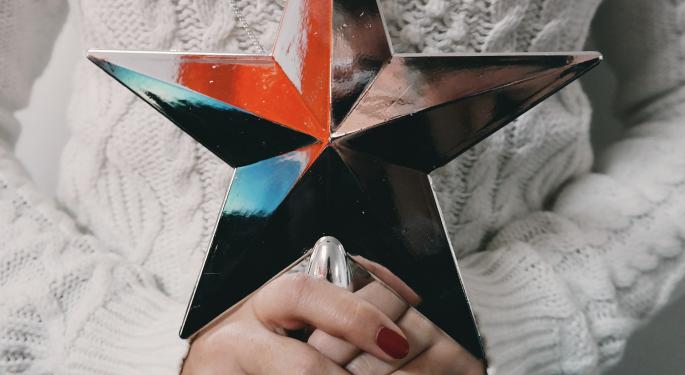 With the growth and momentum factors soaring this year, it is not surprising that some dividend-oriented strategies are lagging or barely keeping pace with the S&P 500. That does not mean investors should throw in the towel on dividend stocks and chase sexier fare, such as the FANG quartet.
One dividend ETF that is outperforming the S&P 500 and has recently been notching a series of record highs is the WisdomTree U.S. Quality Dividend Growth Fund DGRW 0.19%. DGRW follows the fundamentally-weighted WisdomTree U.S. Quality Dividend Growth Index. That benchmark marries the growth and quality factors by evaluating long-term earnings growth trends along with return on assets and return on equity.
"While most dividend ETFs covered by CFRA are trailing the 11.7 percent year to date return for the S&P 500 index, CFRA's Overweight ranked WisdomTree US Quality Dividend Growth Fund is a bright spot rising 13.3 percent over the same time horizon," said CFRA Research Director of ETF & Mutual Fund Research Todd Rosenbluth in a note out Monday. "Relative to other dividend-growth ETFs, some of which we will highlight below, DGRW contains more exposure to technology (20 percent) and consumer discretionary (17 percent) assets in the portfolio through May."
It's What's Inside That Matters
To be precise, technology is DGRW's largest sector weight while consumer discretionary places fourth. With a combined allocation of over 37 percent to those two sectors, DGRW almost looks like a growth ETF. And it is, but it is a source of dividend growth. The healthcare and industrial sectors combine for almost 39 percent of DGRW's roster.
"While DGRW has performed well this year, it's what's inside the fund that CFRA likes," said Rosenbluth. "CFRA Strong Buy recommended Apple Inc.< AAPL 0.91%, Buy recommended Home Depot Inc. HD 1.49% and Buy recommended McDonald's Corporation MCD 3.52% are among the top holdings in these sectors."
Investors are flocking to DGRW. The ETF, which pays a monthly dividend, now has $1.68 billion in assets under management, of which about $468 million has flowed into the fund this year.
A Rival
A familiar rival to DGRW is the Vanguard Dividend Appreciation ETF VIG 0.25%. VIG focuses on U.S. large-caps that have boosted payouts for at least 10 consecutive years. Year to date, DGRW is topping VIG by more than 200 basis points, and over the past 36 months, the gap grows to 670 basis points in favor of the WisdomTree ETF.
CFRA has an overweight rating on VIG as well.
Disclosure: Todd Shriber owns shares of DGRW.
© 2017 Benzinga.com. Benzinga does not provide investment advice. All rights reserved.
Source