We looked at the AUD/JPY yesterday as it tested a falling resistance. It has since broken that resistance and pulled back. So far, the breakout looks legit. 

AUD/JPY 4H Chart 8/9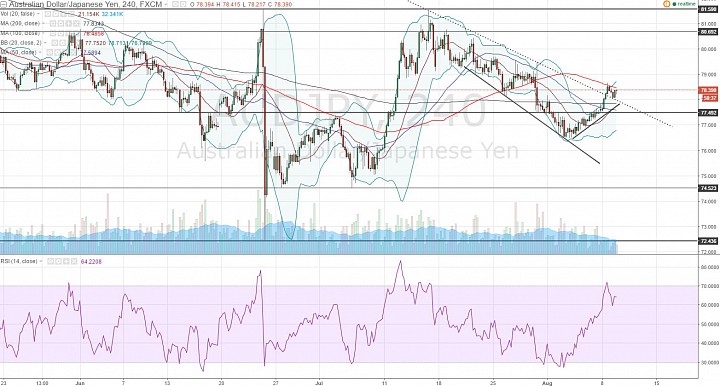 (click to enlarge)
Upside within range:
- With the broken trendline, there is some further bullish outlook in August. 
- AUD/JPY has fallen into a wide range between 72.44 and 81.60. 
- Therefore, the bullish breakout should open up a short-term outlook and it should be limited to the 80.70-81.60 resistance area. 

Support at 77.50:
- If the AUD/JPY continues to pull back, I think we should monitor the 77.50 area for support. 
- A bullish market should buy the AUD/JPY at 77.50. 
- The 4H RSI should also hold above 40. 
- If however price falls below 77.00, and the RSI below 40, we should shelve the bullish outlook, and look for further downside.
Conventional range strategy:
- Another strategy that requires more waiting is to simply ignore all the price movements now until AUD/JPY is either near range support or resistance.