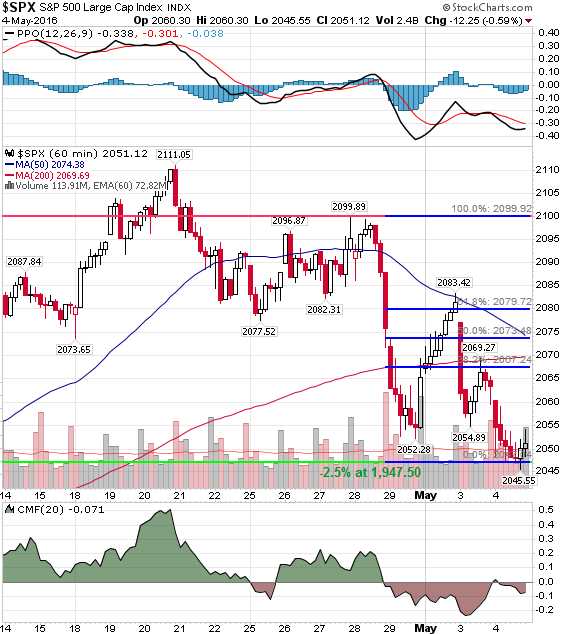 Let's take about the 5% Rule™.
For details, you can read this post, but today we're going to focus on the very simple concept of bounce lines.  Under our 5% Rule™, we expect moves of 1.25%, 2.5% or 5% on major indexes to have 20% (of the move) corrections along the way, with a greater chance of a correction more likely as we cross each line of resistance.
It's the 5% Rule™ that led us to make a long call in yesterday's Live Trading Webinar, as we tested the -2.5% lines on our indexes EXACTLY WHERE WE PREDICTED THEY WOULD BE IN OUR MORNING POST.
That's right, using our 5% Rule in the morning, I was able to say in our morning post at 8:33 am:
We have a PMI report at 9:45 and ISM Services at 10 along with Factory Orders and, at this point, expectations are low all around so we'll be looking for a bounce at Dow (/YM) 17,550, S&P (/ES) 2,040, Nasdaq 4,300 (/NQ) and Russell (/TF) 1,110 along with /NKD 15,900 but if any 2 are below (including whatever you are playing) – GET OUT!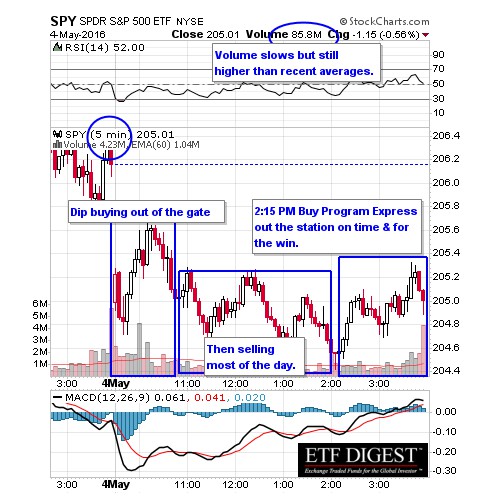 The S&P bottomed for the day at 2,039 at 2:05 pm and is already back to 2,055 for a $750 per contract gain in the /ES Futures.  In our Live Trading Webinar, we played the Nasdaq Futures (/NQ) over the 4,300 line and made a very quick $168.50 in 5 minutes and then we chose to play Gasoline Futures (/RB) and made a just as quick $580 after another 5 minutes of hard labor at our keyboards.  Making $748.50 in 10 minutes is good money so we took it and ran and went on with our Webinar at that point but the lines, , remains the same – ready to be played any time we get a good test. 
This post isn't about showing you how to make money trading the Futures – we do that all the time in our Member Webinars (replays available here) and, of course, every day in our Live Member Chat Room.  This post is about WARNING YOU not to get sucked in by same action we make money on – the weak bounces off resistance that may or may not lead to recoveries.  
The reason we like to take futures longs on bounces is because that way we don't miss anything if it is the start of a recovery but we're also not getting tied up in new trades in an attempt to bottom-fish off a false signal.  To be clear – the bounce is reliable – whether or not it leads to an actual rally is impossible to guess – so we just make our money on the bounces and let the rest sort iteslf out BEFORE we commit our capital to longer-term positions.  It's a ridiculously simple and effective system which keeps us from making mistakes in our portfolios.
IN PROGRESS
Provided courtesy of Phil's Stock World.
Would you like to read up-to-date articles on the day they are posted? Click here to become a part of our growing community and learn how to stop gambling with your investments. We will teach you to BE THE HOUSE - Not the Gambler!