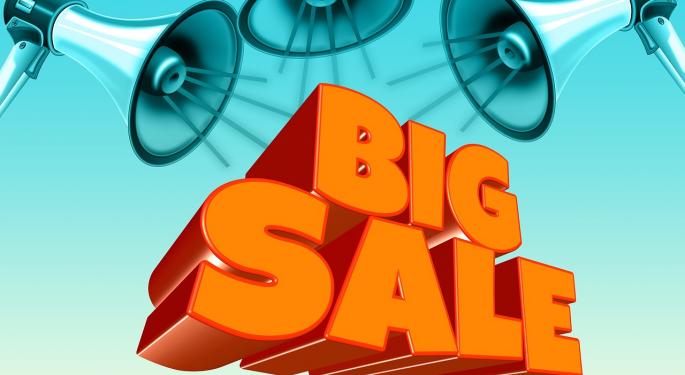 Amazon.com, Inc. AMZN 0.01% and Wal-Mart Stores, Inc. WMT 0.71%, two retail behemoths and leaders in their respective spaces, have gone all out to woo holiday shoppers.
Here is a list of irresistible offers from these two biggies you can look forward to:
Wal-Mart for one promised customers affordability and availability. Something for everyone seems to be its mantra. The majority of Black Friday deals were made available on Walmart.com, beginning at 12:10 a.m. on Thanksgiving morning. The Black Friday event was set to kick start in stores at 6 p.m. local time on Thanksgiving Day.
Wal-Mart: Top Black Friday Deals In Stores And Online
Drones including the DJI Drone Phantom Standard 3 for $369.
Connected Home.
A $99 iPhone 5s 16GB on Straight Talk Wireless.
Pajamas and slippers.
Home and outdoor favorites.
A 14-foot trampoline combo.
Amazon, the online retail behemoth, isn't one to be cowed down, even as brick-and-mortar retailers make inroads into the online channel, which was for long its prerogative.
Amazon: Categorically-Listed Select Cyber Monday Deals
Amazon Devices
Dash Buttons, $0.99 to buy and $4.99 credit back after first purchase.
Save $40 on Amazon Echo ($139.99).
Save $25 on Fire Kids Edition tablet ($74.99).
Electronics
50" 1080p LED TV ($145).
Save up to 30 percent on select HP laptops.
HP Envy wireless all-in-one photo printer ($49.99).
Toys
Save up to 50 percent on select toys from Nerf, Play-Doh, Playskool and more.
LINCOLN LOGS centennial edition tin ($32.49).
Fashion
Save 30 percent on select clothing, shoes, jewelry and watches.
Gift Cards
$5 off three Christmas greeting cards with ready-to-load anytime gift cards.
Kitchen And Home
Blendtec Total Blender ($239.99).
Save $99 on iRobot Roomba 960 robotic vacuum cleaner.
Pets
Select GREENIES dental dog treats ($12.99).
Save 55 percent on select KONG fire hose ballistic square dog toys.
Sports And Outdoor
Save 40 percent on Segway One S1.
Save up to 50 percent on select Callaway golf sets.
Save up to 63 percent on select NordicTrack cardio equipment.
Books
Save up to 85 percent on select Kindle books, including best-sellers like "Game of Thrones" by George R. R. Martin, "Truly Madly Guilty" by Liane Moriarty and "The Boys in the Boat" by Daniel James Brown.
Video Games
Save $50 on PlayStation 4 Slim 500GB Console - Uncharted 4 bundle.
Save 33 percent on "BioShock: The Collection."
At Last Check
Amazon was down 0.09 percent at $779.40.
\Wal-Mart was up 0.52 percent at $71.20.
© 2016 Benzinga.com. Benzinga does not provide investment advice. All rights reserved.