Home Depot is going to report its earnings on Tuesday before the market opens. We've seen some volatility jumps this week, incl. Macy's, Nordstrom, J.C.Penney. I didn't expect that we'll see such volatility hype, but if it happens, let's take a maximum out of it. Home Depot and a few other stocks are going to be super volatile next week and we should definitely use the options to handle this volatility. Home Depot's stock didn't move significantly after the most recent earnings call, moreover, their Q4'15 and Q3'15 calls were followed by less than 1% stock price change. 
Analysts are mostly positive about Home Depot's stock, 10 of them have a 'buy' recommendation, 8 analysts have an 'outperform' and the rest 11 iterated a 'hold' rating. When everybody is so positive, something unusual happens. I have one concern regarding analysts estimates - their EPS is forecasted to grow more than 36% on q-o-q basis and more than 15% on y-o-y basis. I think it's too high because the revenue growth isn't that optimistic - 6% y-o-y and 16% q-o-q:
EPS:

Revenue:

Source: Financial Times
Perhaps they can improve the business efficiency, but it won't be so significant in one quarter. Options traders aren't very active, that's why buying a straddle will be really cheap. As far as this straddle is cheap, I think we don't need to sell OTM options to reduce the costs. Let's check the initial outlay in case if we buy a straddle:

This strategy will cost you around 3.6% of the stock price, so it means that if the stock goes up or down more than 3.6% next week, you will start making money. If you want to reduce the costs, you can actually sell some OTM options. If you do so, you initial outlay most likely will have the following form: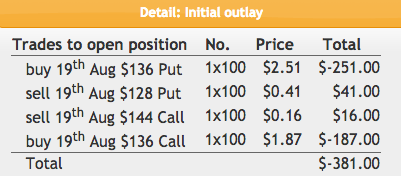 Practically it means that you'll start making money if the stock price change exceeds 2.9% instead of 3.6% we had before the cost optimization. Your P&L profile in dollar value will be the following: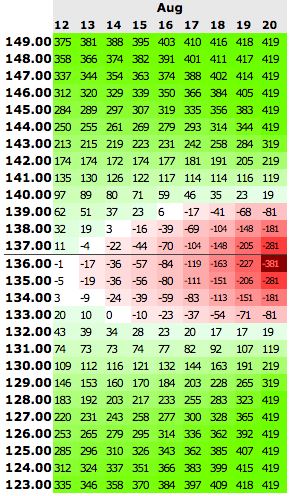 So as you can see, the maximum profit you can get is $419 if the stock price goes beyond $128-$143 range - less than 6% move. It doesn't seem unreachable, because we've already seen the run after Macy's report for example. Basically, the second strategy with OTM puts looks preferable - the margin of safety is definitely high.