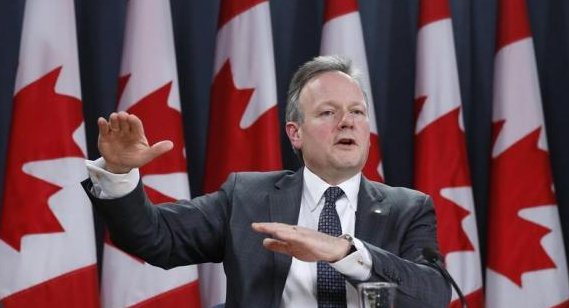 (BoC Gov. Stephen Poloz, courtesy of reuters.com)
After holding above 1.0940 earlier this week, USD/CAD maintained a short-term bullish outlook, against last few week's bearish swing from 1.127 to 1.0858.
USD/CAD before the BoC statement:
Ahead of Bank of Canada's monetary policy statement, it was testing the 1.10-1.1010 pivot area, and has cracked it.
There was a break above a falling trendline from the 1.1277 high, and there was a break below the rising trendlien from the April low of 1.0858. The breaks occurred by sideways price action, so USD/CAD remained at the crossroad heading into the BoC event risk.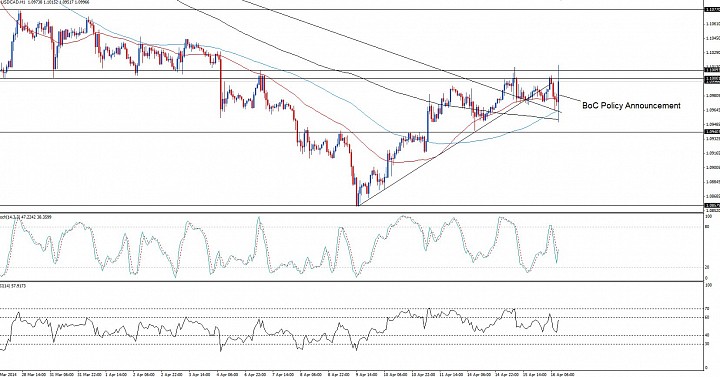 (usdcad 1h chart, 4/16)
BoC Policy Unchanged:
The BoC was expected to maintain the overnight rate at 1.0%, and it did. Traders are anticipating when the bank will raise rates. 
The policy statement, does not seem to have anything new. Inflation is low and the economy is still recovering slowly. No rush to raise interest rates. We will need to wait for the next policy meeting to see if the bank introduces any new projections for rate hike.

USD/CAD Reaction and Outlook:

Without an increase in the prospect of a rate hike, the CAD softened as an immediate reaction to the release. If USD/CAD can break and hold above 1.10, then we should expect a bullish outlook to end this week and to start the next.

A break below 1.0940 however suggests a bearish continuation in the USD/CAD.