We noted earlier the premature exuberation in USDJPY and Nikkei 225 - despite most of the sell-side not expecting anything from The BoJ - and it appears the banks were right and the FOMO traders wrong. The Bank of Japan made no change to its monetary policy (no increased buying, no shift in ETF allocations, and no NIRP for now). BoJ members spewed forth their usual mix of "everything is awesome" and "any quarter now" for the recovery but the market wasn't buying it. That leaves only one thing left to cling to for a "we must buy" crowd - no change today 'guarantees' moar QQE in October.
"No Change"
*BANK OF JAPAN LEAVES MONETARY POLICY UNCHANGED AS FORECAST
*BOJ RETAINS PLAN FOR 80T YEN ANNUAL RISE IN MONETARY BASE
*BOJ: CPI LIKELY TO BE ABOUT 0% FOR TIME BEING
*BOJ: TO CONTINUE QQE UNTIL STABLE 2% INFLATION MAINTAINED
Nikkei plunges...
And USDJPY tumbled...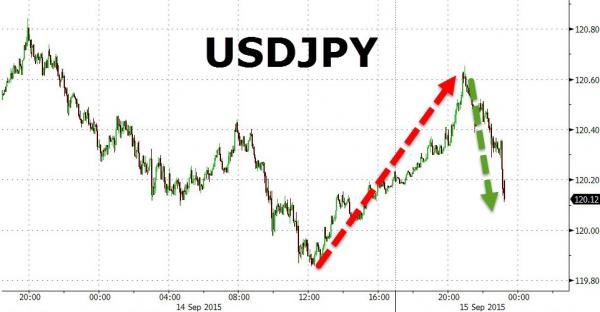 Of course - the propaganda attached to the statement was sickening...
*BOJ SAYS EASING IS EXERTING INTENDED EFFECTS (a collapse in householding spending and real wages)
*BOJ SEES ECONOMY CONTINUING TO RECOVER MODERATELY (heading back into 4th recession in 4 years)
It's not our fault...
*BOJ: EXPORTS, PRODUCTION AFFECTED BY SLOW DOWN IN EMERGING MKTS
"More or less" is the new normal...
*BOJ: PRODUCTION HAS BEEN MORE OR LESS FLAT
*BOJ: EXPORTS HAVE BEEN MORE OR LESS FLAT
*YAMAMOTO: JAPANESE ECONOMY IS TREADING WATER
Better spend some more on ETFs...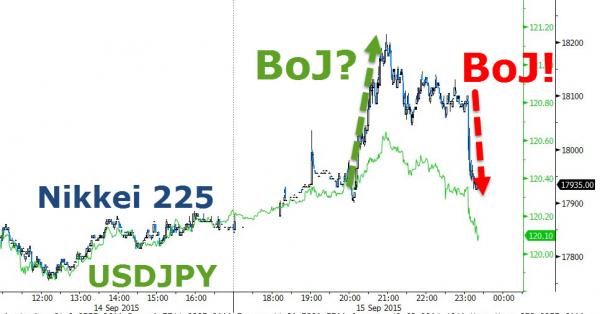 Charts: Bloomberg