Teva Pharmaceutical Industries Ltd. TEVA and Korean partner Celltrion, Inc., announced that the FDA has accepted for review their Biologics License Application (BLA) for CT-P10, a proposed biosimilar to Roche Holding AG's RHHBY Rituxan (rituximab). The regulatory action by the FDA is expected by the first quarter of 2018.
Teva's shares have lost 9.1% so far this year against the Zacks classified Medical-Generics Drug industry's loss of 0.5%.



CT-P10 is a monoclonal antibody (mAb) designed to target CD20, which is found on the surface of most B cells. B cells are involved in immune-related diseases such as rheumatoid arthritis, and hematological cancers. The proposed indications are for the treatment of non-Hodgkin's lymphoma (NHL), chronic lymphocytic leukemia (CLL), rheumatoid arthritis (RA), granulomatosis with polyangiitis and microscopic polyangiitis. CT-P10, is approved in the EU for these indications.

We remind investors that Teva bought exclusive rights to commercialize biosimilar versions (CT-P10 and CT-P6) of two Roche drugs, Rituxan and Herceptin in October last year. Once the mAb biosimilars are commercialized, Teva and Celltrion Healthcare will share profits from the same. Both candidates have met their primary endpoints in the respective late stage phase III studies.
CT-P6 is submitted to the European Medicines Agency (EMA) for product approval in all indications of the reference Herceptin including HER2-positive breast cancer and HER2-positive metastatic stomach cancer.
There are few biosimilars approved and launched in the U.S. Sandoz, a Novartis AG NVS company, was the first to gain approval for and launch a biosimilar in the U.S. The company launched Zarxio (filgrastim-sndz), a biosimilar version of Amgen Inc.'s AMGN Neupogen in 2015. The second biosimilar which was launched in the U.S. in Nov 2016 was Pfizer and Celltrion's Inflectra (infliximab-dyyb) with the reference product being Remicade.
This was followed by the FDA approval of biotech giant Amgen's Amjevita (adalimumab-atto), a biosimilar to AbbVie's Humira. However, Amjevita is yet to be launched due to ongoing litigation.
Last year, Sandoz received approval for a biosimilar version of Enbrel, called Erelzi in August. Erelzi is still to be launched in the U.S.
The market for biosimilars is huge and highly lucrative. Several other blockbuster biologics including Humira and Lantus will lose patent protection by 2020. Biosimilars are expected to reduce healthcare costs and provide a large number of patients with access to much needed biologic treatments.

Teva Pharmaceutical Industries Limited Price and Consensus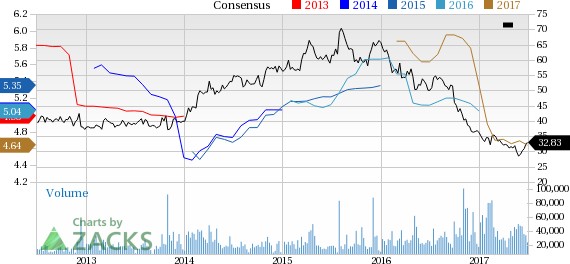 Teva Pharmaceutical Industries Limited Price and Consensus | Teva Pharmaceutical Industries Limited Quote
Zacks Rank
Teva currently carries a Zacks Rank #3 (Hold). You can see the complete list of today's Zacks #1 Rank (Strong Buy) stocks here.
5 Trades Could Profit "Big-League" from Trump Policies If the stocks above spark your interest, wait until you look into companies primed to make substantial gains from Washington's changing course. Today Zacks reveals 5 tickers that could benefit from new trends like streamlined drug approvals, tariffs, lower taxes, higher interest rates, and spending surges in defense and infrastructure. See these buy recommendations now >>
Want the latest recommendations from Zacks Investment Research? Today, you can download 7 Best Stocks for the Next 30 Days.
Click to get this free report
Roche Holding AG (RHHBY): Free Stock Analysis Report
Novartis AG (NVS): Free Stock Analysis Report
Amgen Inc. (AMGN): Free Stock Analysis Report
Teva Pharmaceutical Industries Limited (TEVA): Free Stock Analysis Report
To read this article on Zacks.com click here.
Zacks Investment Research