Oil and gas is a cyclical industry, which is why there are only two energy stocks on the list of Dividend Aristocrats.
One of them is Exxon Mobil (XOM).
The Dividend Aristocrats are a group of 51 stocks in the S&P 500 Index, with 25+ years of consecutive dividend increases.
Despite operating in a boom-and-bust industry, Exxon Mobil has raised its dividend each year, for more than 30 years.
While so many other oil and gas companies cut their dividends over the past year, Exxon Mobil kept its dividend growth streak intact.
Investors can thank Exxon Mobil's diversified business model and quality assets for this.
This article will discuss why Exxon Mobil stock could be a good choice for income investors, such as retirees.
Business Overview
Exxon Mobil is classified as an integrated oil and gas company, meaning it operates both upstream (exploration and production) and downstream (refining) businesses. It also has a large chemicals segment.
With a balanced business model across the oil and gas spectrum, Exxon Mobil is less volatile than independent exploration and production majors like ConocoPhillips (COP), which are much more sensitive to fluctuations in oil and gas prices.
Refining and chemicals operations tend to hold up much better than exploration and production activities, when commodity prices decline.
Exxon Mobil has a very high-quality business model, and generates industry-leading returns on capital.
(Click on image to enlarge)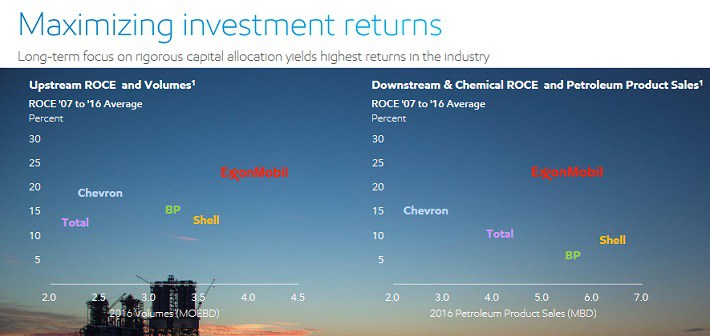 Exxon Mobil's upstream business lost $4.2 billion in 2016, but the refining segment earned a profit of $4.2 billion for the year. And, the chemicals business generated profit of $4.6 billion.
Still, Exxon Mobil's upstream segment is its largest business, which means the company is not immune from falling commodity prices.
Exxon Mobil's earnings-per-share declined 51% in 2016.
The good news is, oil and gas prices have recovered significantly off their 2016 lows. And, as the largest publicly-traded...
More