Shares of Incyte Corporation INCY were down 3.4% after the company reported a loss in the second quarter of 2017.

Incyte reported a loss of 6 cents, a penny wider than the Zacks Consensus Estimate of a loss of 5 cents. Incyte had reported earnings of 18 cents per share in the year-ago quarter. Quarterly revenues were $326.4 million, up 32.5% year over year and beat the Zacks Consensus Estimate of $318.4 million. The top line was driven by higher sales of Jakafi in the U.S. and Iclusig in Europe as well as royalties from ex-U.S. sales of Jakavi and Olumiant.
Incyte's shares have moved up 28.4% in the year so far compared with the industry's 9.0% gain.
Quarter in Detail
Jakafi sales grew 33%, year over year to $276 million. Net product revenue of Iclusig amounted to $15.7 million. Product royalty revenues from Novartis AG NVS for the commercialization of Jakafi in ex-U.S. markets grew 34% to $34.8 million.
Research and development expenses were up to $201.8 million from $120.3 million in the year-ago quarter. The increase was primarily due to the expansion of the portfolio as well as upfront and milestone expenses of $209 million related to collaboration and license agreements. Selling, general and administration (SG&A) expenses amounted to $90.1 million, up 34.8% year over year.
2017 Outlook Updated
The company now expects Jakafi revenues in the range of $1,090–$1,120 million, up from $1,020–$1,070 million. Iclusig revenues are expected in the range of $60–$65 million.
R&D expenses are now expected in the range of $1,050–1,150 million, up from the earlier forecast of $1,000–1,100 billion due to the acceleration of the phase III plans for epacadostat. SG&A expenses are still expected in the range of $340–$360 million.
Incyte Corporation Price, Consensus and EPS Surprise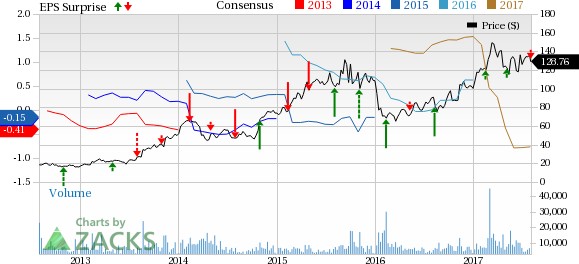 Incyte Corporation Price, Consensus and EPS Surprise | Incyte Corporation Quote
Pipeline Update
A phase III trial, REACH3 evaluating Jakafi as a treatment for patients with steroid-refractory chronic graft-versus-host disease (GVHD) is expected was initiated in Jun 2017. The pivotal program, RESET-272 evaluating Jakafi versus anagrelide in patients with essential thrombocythemia is now open for enrolment and first patient will be dosed in the coming weeks.
A phase III trial, GRAVITAS-301, on itacitinib, in patients with treatment-naïve acute GVHD, was initiated in July.
Earlier in 2017, Incyte extended its collaboration with Merck & Co., Inc. MRK for the pivotal program studying epacadostat in combination with Keytruda to a total of five tumor types. Incyte and Merck will advance four additional tumor types beyond melanoma – non-small cell lung cancer, bladder, renal and head & neck cancers – across six phase III trials. These trials are expected to begin in2017.
Additionally, Incyte extended its collaboration with Bristol-Myers Squibb Company BMY evaluating epacadostat in combination with Opdivo in pivotal studies in two tumor types (planned initiation before 2017 end).
The European Commission approved Olumiant in Feb 2017 for the treatment of moderate to severe active rheumatoid arthritis in adult patients who have responded inadequately to, or who are intolerant to one or more disease-modifying anti-rheumatic drugs. The drug was approved in Japan too. However, the company suffered a setback when the FDA issued a complete response letter for Olumiant in which the FDA indicated that additional clinical data are needed to determine the most appropriate doses. The FDA further stated that additional data are necessary to further characterize safety concerns across treatment arms. In Jul 2017, Lilly and Incyte announced that the resubmission of the New Drug Application (NDA) for Olumiant will be delayed for a period anticipated to be a minimum of 18 months. Both companies will be further evaluating future plans with the agency and analyse options for resubmission, including the potential for an additional clinical study, as requested by the FDA.
Our Take
Incyte reported a wider-than-expected loss in the second quarter. Nevertheless, the revenue beat was impressive. Jakafi sales were driven by patient demand and are expected boost revenues. The increase in sales guidance was also encouraging.
While most of the demand is due to a larger established patient base in myelofibrosis, polycythemiavera is also expected to be a major long-term driver of Jakafi growth. This is owing to the larger potential patient population and the possibility for longer duration of treatment. Jakafi was included as a recommended treatment for patients with myelofibrosis and patients with polycythemiavera in the latest National Comprehensive Cancer Network (NCCN) Clinical Practice Guidelines in Oncology for myeloproliferative neoplasms (MPNs) in Jul 2017. This is likely to boost demand further.
However, the delay in NDA submission of Olumiant in the U.S. is disappointing.
Zacks Rank
Incyte currently carries a Zacks Rank #3 (Hold). You can see the complete list of today's Zacks #1 Rank (Strong Buy) stocks here.
More Stock News: Tech Opportunity Worth $386 Billion in 2017
From driverless cars to artificial intelligence, we've seen an unsurpassed growth of high-tech products in recent months. Yesterday's science-fiction is becoming today's reality. Despite all the innovation, there is a single component no tech company can survive without. Demand for this critical device will reach $387 billion this year alone, and it's likely to grow even faster in the future.
Zacks has released a brand-new Special Report to help you take advantage of this exciting investment opportunity. Most importantly, it reveals 4 stocks with massive profit potential. See these stocks now>
Want the latest recommendations from Zacks Investment Research? Today, you can download 7 Best Stocks for the Next 30 Days.
Click to get this free report
Bristol-Myers Squibb Company (BMY): Free Stock Analysis Report
Novartis AG (NVS): Free Stock Analysis Report
Merck & Company, Inc. (MRK): Free Stock Analysis Report
Incyte Corporation (INCY): Free Stock Analysis Report
To read this article on Zacks.com click here.
Zacks Investment Research