The USD/JPY has been in a very straight upwards path since breaking out of a price bottom in early November. 

USD/JPY Daily Chart 12/2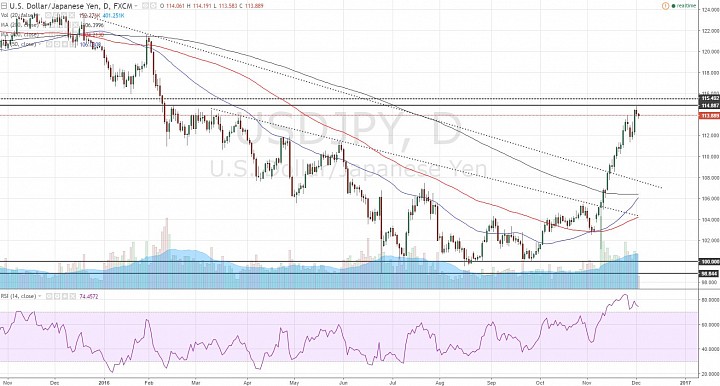 (click to enlarge)

Bearish Divergence:
- The RSI has pushed above 80, which shows very strong bullish momentum. It doesn't really say the market is overbought, but the market is bullish.
- However, when the RSI made a lower higher as price made a higher high, we got a bearish divergence. This simply tells us, the bullish momentum is slowing down - that maybe finally, the market feels USD/JPY is overbought.

Critical Resistance:
- There is a key support/resistance pivot area between 114.85 and 115.50. 
- Price is essentially tagging the bottom of this pivot area and finding resistance during the 12/1 session.
- I would anticipate the market becoming a bit more choppy here around or just under the 115.00 area.
- A break above 115.50 would open up the 118.00 area and support pivot area. 

Bullish Outlook:
- I think November's price action set the stage for bullish continuation in USD/JPY.
- Even the 125-125.90 highs will be in sight.
- I believe this because the FOMC is looking to raise rates soon, and the BoJ still has a while to go before it turns the corner from its currently expansionary monetary policy. 

Given the bullish outlook and expectation of resistance. We should probably be anticipating a buy-on-a-dip setup.