As long as Yahoo (YHOO) does not close above $37.57 tomorrow, I will pocket a decent return on the iron condor trade I suggested almost two weeks ago. Earnings were out tonight, and the stock gained over 1% in the after-hours, according to Google Finance: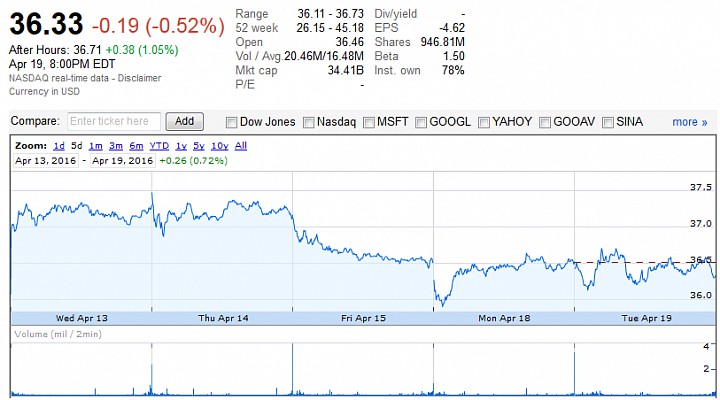 (Source: Google Finance)
Yahoo's results were bad, as usual. The stock seems to be edging up due to the expected deal connected with the sale of some of the company's assets, which are reportedly attractive to a number of companies. Despite the growing anxiety around the company and the deal, its stock has not yet moved outside the expected range.
As always, I do not really care. I am not ready to own Yahoo's stock because I believe people should be buying stocks for the long-term. They are the instruments that work best over decades - the preferred asset class for long-term capital appreciation, as evident from history. However, this does not mean I cannot play options around Yahoo. Today, I have a strategy in mind for you.
You have already seen a few of my articles written about the iron condor options strategy. If you are unfamiliar with it, read more about it here. Iron condors work best on very short time periods - a few weeks or less. This is because with iron condors an investor is effectively a net seller of options which mean that time decay works in his/her favor. The strategy I have for you today involves options expiring on April 22, 2016: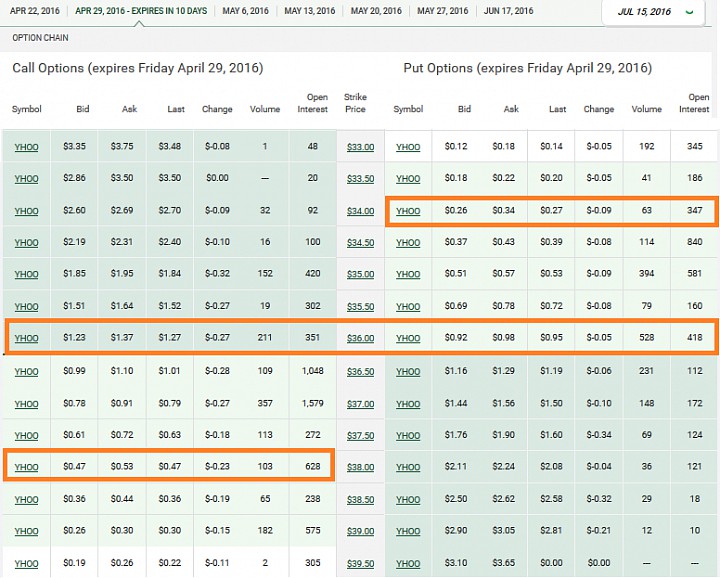 (Source: TD Waterhouse)

Here is the algorithm around the iron condor trade: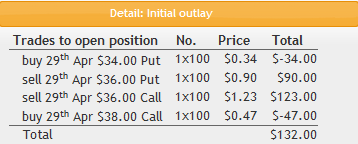 (Source: optionsprofitcalculator.com)
Below you can see the payoff matrix calculated for one options contract (equivalent to 100 shares)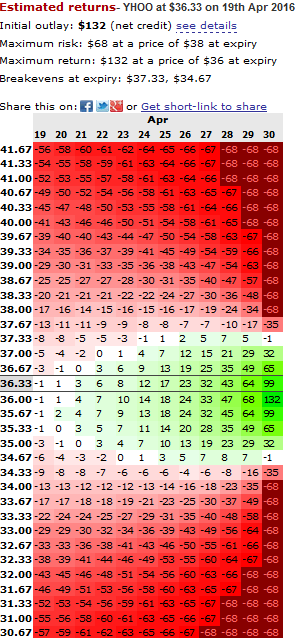 (Source: optionsprofitcalculator.com)
There are two things that I like about this trade:
(1) A nice risk-return profile - traders can earn 1.9X their money with this trade (and the trade results in a net credit position which is also attractive);
(2) A small size - unlike some of my other trades, this one is very inexpensive as measured per one contract. Of course, you may increase the position as much as you want (the volume is very high in this case, so the market can absorb large trades). If you go with the one contract, the maximum you can lose is $68. This is not a lot of money even for a small portfolio.
I am thinking about initiating this trade tomorrow once the earnings-related volatility vanishes. What do you think about this opportunity?