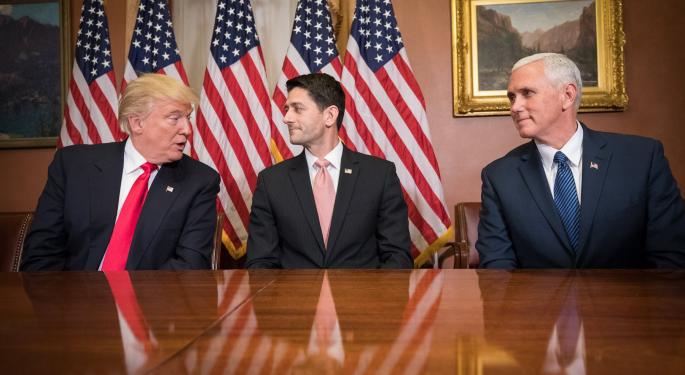 Broadly speaking, political donors on Wall Street backed Democrat Hillary Clinton in this year's presidential election. Judging by the reaction to Republican Donald Trump's stunning upset, financial services stocks and the corresponding exchange-traded funds are comfortable with the idea of a Trump presidency.
Of the 108 ETFs that hit 52-week highs last Friday, 12 were financial services funds including the widely followed Financial Select Sector SPDR Fund XLF 2.08%. Initially, Trump's victory was seen as benefiting bank stocks due to speculation the 45th president could attempt to unwind parts of the Dodd-Frank Act and relax some regulations on the financial services sector.
So jittery were investors about the specter of a Clinton victory and its potential impact on the financial services, that bearish options activity in XLF spiked in the days leading up to the election. However, a Trump White House does not necessarily a perfectly sanguine environment for XLF and rival ETFs.
Clinton Worries Don't Dismiss Trump Fears
"The Dodd-Frank Act (DFA) has featured as a target in President-elect Donald Trump's campaign statements, but most aspects of DFA have been implemented, and it is unclear whether a wholesale repeal could pass or what a partial repeal may encompass," said Fitch Ratings in a recent note.
Investors expecting wholesale changes to DFA or marquee financial regulatory bodies might be disappointed.
"The Consumer Financial Protection Bureau is a relatively high-profile target for those opposed to the DFA, but its elimination on its own would be unlikely to have a material impact for banks in the aggregate. Notably, there has been little specific discussion of peeling back the Volcker Rule or Resolution Authority, some of the more costly aspects of the DFA. Fitch notes that the reduction in proprietary trading activity linked to Volcker has been largely positive for banks, while the resolution process has been largely positive for banks' governance," added the ratings agency.
Interest Rates And Real Estate
Of course, interest rates remain critical to the near-term outlook for XLF. Trump's victory is seen as reducing the chances of the Federal Reserve raising interest rates next month as was widely expected.
"With Real Estate no longer part of the Financial sector, the focus is on Financial Services where the outlook remains clouded by the pace of interest rate hikes (if any) and the aging bull market. Post-Financial Crisis, return on equity for these firms has settled into a range around 8–10 percent, and the stocks are trading at quite reasonable valuation multiples. The sector enjoys Overweight [emphasis omitted] recommendation as a result," added AltaVista.
Disclosure: Todd Shriber owns shares of XLF.
Image Credit: By Office of the Speaker of the House [Public domain], via Wikimedia Commons
© 2016 Benzinga.com. Benzinga does not provide investment advice. All rights reserved.
Source