Invest with Confidence. Are you a financial professional? Stay on top of your portfolio with Benzinga Pro's real-time newsfeed and alerts and never miss a headline again.
Don't miss the chance to try it FREE today.
The latest data from TickerTags indicates that Amazon.com, Inc. AMZN 2.44%'s AWS cloud services platform is gaining traction among both the general population and the most tech-savvy Internet users. AWS brought in $2.4 billion in revenue in Q4, up an impressive 69 percent year-over-year (Y/Y). If social media buzz is any indication, Amazon shareholders can expect some more impressive growth numbers when Amazon reports Q1 earnings on Thursday after the market close.
TickerTags monitors social media sites to identify trends by searching for words and phrases that appear together in social media content, such as tweets.
The number of Twitter mentions of AWS more than doubled Y/Y in Q1. This growth far outpaced the Y/Y increases in Twitter mentions of Microsoft Corporation MSFT 0.57%'s Azure (+56 percent) or Alphabet Inc GOOG 0.46% GOOGL 0.45%'s Google Cloud (+69 percent).
These numbers indicate that AWS is becoming more main-stream, but analysis of technology message board buzz shows that AWS is also gaining major momentum in tech circles as well.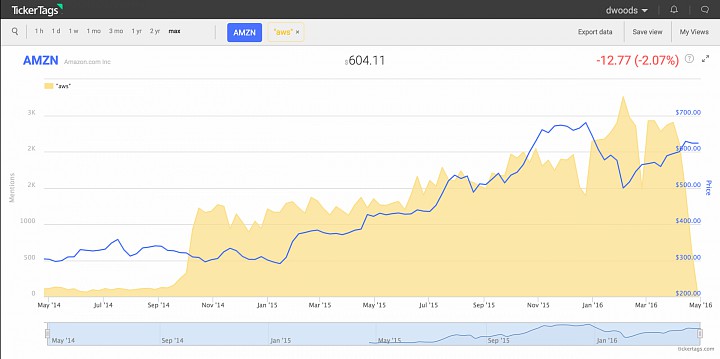 Mentions of AWS on technology message boards increased 88 percent Y/Y and 36 percent Q/Q in Q1. Comparatively, message board mentions of Azure and Google Cloud are up just 40 percent and 62 percent Y/Y, respectively.
Disclosure: The author holds no position in the stocks mentioned.
© 2016 Benzinga.com. Benzinga does not provide investment advice. All rights reserved.