After posting back-to-back misses in the last two quarters, Altria Group Inc. MO delivered a positive earnings surprise in third-quarter 2017, which also marked its third straight quarter of year-over-year bottom-line growth. However, top line fell year over year and lagged the Zacks Consensus Estimate. Nonetheless, the company kept its 2017 earnings guidance intact.

Quarter in detail

Adjusted earnings of 90 cents per share surpassed the Zacks Consensus Estimate of 87 cents. Also, earnings increased 9.8% year over year, on the back of higher operating income in the smokeable and smokeless segments and lower outstanding shares. This was somewhat offset by reduced equity earnings from the company's investment in beer.
Altria Group Price, Consensus and EPS Surprise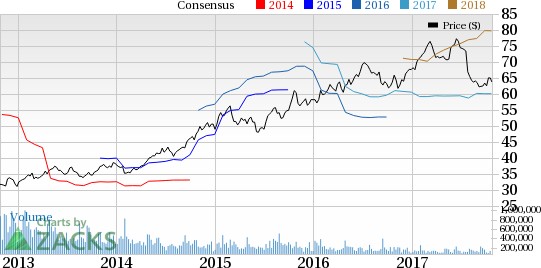 Altria Group Price, Consensus and EPS Surprise | Altria Group Quote
However, net revenues fell 2.5% to $6,729 million in the quarter, owing to soft net revenues in the smokeable products segments. Revenues net of excise taxes slipped 1.3% year over year to $5,123 million. This also came below the Zacks Consensus Estimate of $5,196 million.

In e-vapor, Altria's subsidiary Nu Mark LLC continues to boost MarkTen volume and retail share. MarkTen's third-quarter national retail market share was approximately 13.5% in mainstream retail channels. Further, it forms nearly 65% of e-vapor volumes in those channels.

However, if we look into Altria's stock performance over a year, we note that the stock has moved up just 3.9%, in comparison to the industry's growth of 11.4%.


We believe declining demand for cigarettes due to the ongoing anti-tobacco campaigns, government restrictions and higher cigarette prices in response to rising taxes have been weighing on the stock. Strict Food and Drug Administration (FDA) regulations on cigarette packaging dissuade customers from smoking. Additionally, consumers' preference for e-cigarettes or substitutes for cigarettes are largely affecting the cigarette volume. Evidently, Altria's top line lagged the Zacks Consensus Estimate in seven of the last nine quarters, including this quarter.

Segment Details

Smokeable Products Segment: Revenues net of excise taxes dipped 1.5% year over year to $4,410 million, due to soft volumes that was somewhat compensated by better pricing. Cigarette shipment volumes fell 6.2% year over year, stemming from lower cigarette industry volumes, unfavorable trade inventory movements and decline in retail share. On the other hand, shipment volumes for cigars rose 6.6% in the quarter. Total cigarette retail share declined to 50.5%, representing a 0.6 percentage point slip.

Adjusted operating companies income (OCI) increased 7.7% to $2,300 million, while adjusted OCI margins jumped 4.5 percentage points to 52.2%.

Smokeless Products: Revenues net of excise taxes advanced 4.5% to $515 million in the quarter. This was driven by better pricing and reduced promotions, partly countered by unfavorable mix and soft volumes. Shipment volumes fell 1.8% to 212.6 million units, where Copenhagen and Skoal shipment volumes dropped 2% and others increased 1.2% in the quarter. Total smokeless products retail share grew 1.1 percentage points to 53.8% in the quarter.

Adjusted OCI surged 15.7% to $362 million and margins expanded 6.8 percentage points to 70.3%.

Wine: The segment's revenues, net of excise taxes, remained nearly flat year over year at $175 million. Results here were impacted by trade inventory reductions, heightened competition and sluggish growth of premium wine. Wine shipment volume was also almost flat at 2.2 million units.

Adjusted OCI declined 5.3% to $36 million, mainly accountable to soft volumes and escalated expenses. OCI margin decreased 1 percentage point to 20.6%.

Financial Updates

In August 2017, Altria announced an 8.2% hike in its quarterly cash dividend to 66 cents per share. During the third quarter, Altria paid dividends worth $1.2 billion and intends to maintain a payout ratio of 80% of its bottom line. Further, the company repurchased 11.1 million shares under its existing share repurchase program for approximately $759 million. As of Sep 30, 2017, Altria had approximately $576 million remaining under its share repurchase program of $4 billion. Altria expects to complete the program by the end of second-quarter 2018.

Consolidation of Manufacturing Facilities

In October 2016, Altria announced the consolidation of several of its manufacturing facilities to streamline operations and achieve greater efficiencies. The consolidation, scheduled to be completed by first-quarter 2018 is expected to deliver approximately $50 million in cost.

Outlook

This Zacks Rank #3 (Hold) company reaffirmed earnings guidance for full-year 2017 and expects adjusted earnings in a range of $3.26-$3.32, up 7.5% to 9.5% compared with adjusted earnings of $3.03 in 2016. Altria expects 2017 full-year effective tax rate on operations to be roughly 35.5%.

Don't Miss These Consumer Staples Stocks

Ollie's Bargain Outlet Holdings, Inc. OLLI with a long-term earnings per share growth rate of 19.5% carries a Zacks Rank #2 (Buy). You can see the complete list of today's Zacks #1 Rank (Strong Buy) stocks here.

Constellation Brands, Inc. STZ with a long-term earnings per share growth rate of 14.8% carries a Zacks Rank #2.

Brown-Forman Corporation BF.B, with the same Zacks Rank as Constellation Brands, has witnessed positive estimate revisions in the past 30 days.

Looking for Stocks with Skyrocketing Upside?

Zacks has just released a Special Report on the booming investment opportunities of legal marijuana.

Ignited by new referendums and legislation, this industry is expected to blast from an already robust $6.7 billion to $20.2 billion in 2021. Early investors stand to make a killing, but you have to be ready to act and know just where to look.

See the pot trades we're targeting>>
Want the latest recommendations from Zacks Investment Research? Today, you can download 7 Best Stocks for the Next 30 Days.
Click to get this free report
Ollie's Bargain Outlet Holdings, Inc. (OLLI): Free Stock Analysis Report
Brown Forman Corporation (BF.B): Free Stock Analysis Report
Constellation Brands Inc (STZ): Free Stock Analysis Report
Altria Group (MO): Free Stock Analysis Report
To read this article on Zacks.com click here.