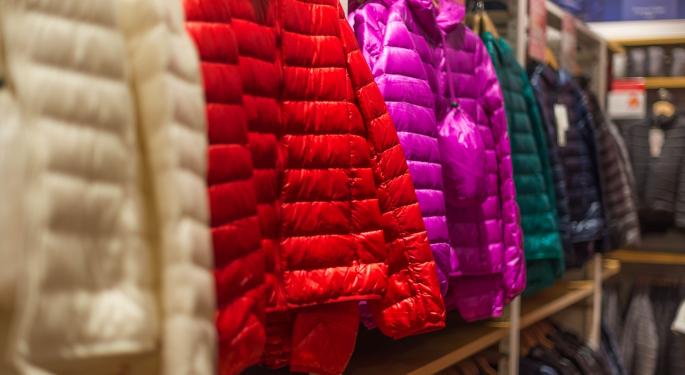 These are not the best of days for traditional retail stocks and the exchange-traded funds that hold those stocks. The SPDR S&P Retail ETF XRT 0.58% is down 5.1 percent year-to-date, which some may argue does not sound all that bad. At least not until realizing the retail ETF tumbled 4.6 percent last week and is now down nearly 9 percent over the past month.
With earnings season winding down, that means an avalanche of retail is on tap over the coming days. That means catalysts exist for XRT and rival retail ETFs, not only in the form of the earnings reports themselves, but also by way of short covering.
Short Selling In Retail
Not surprisingly, eager short sellers have been targeting retail stocks, including several XRT constituents.
"Sports retailer Hibbett Sports, Inc. HIBB 0.06% finds itself as the most shorted US company ahead of earnings with 25.6 percent of its shares out on loan. Sports retailers have had a tough first quarter culminating in the recent chapter 11 bankruptcy filing of Sport Authority in early March. This looks to have emboldened Hibbett short sellers given that demand to borrow the retailers shares shot past the 25 percent of shares outstanding for the first time in over two years," said Markit in a recent note.
Of the 20 stocks on Markit's most-shorted-ahead-of-earnings list, eight are retail names, and seven of those (including Hibbett Sports) are members of XRT's lineup. That is notable because XRT is an equal-weight ETF where none of its 99 holdings command weights of more than 1.54 percent; this explains why, although high-flying Amazon.com, Inc. AMZN 0.67% is XRT's largest holding, the ETF is still scuffling.
Is It All About Amazon?
By comparison, the Market Vectors Retail ETF RTH 0.36% is down just 3.7 percent this year. The difference between RTH and XRT is clear: The former has a weight of nearly 17 percent to Amazon.
"Sports shoe retailer, Foot Locker, Inc. FL 0.7%, also finds itself on the heavily shorted list with over 10 percent of the firm's shares out on loan," said Markit. "In the clothing retailers Stage Stores Inc SSI 1.33% and Buckle Inc BKE 0.29% which have both seen their shares trade at recent lows over the last few weeks round out the top three most shorted names announcing earnings next week."
Buckle and Foot Locker are also XRT holdings.
© 2016 Benzinga.com. Benzinga does not provide investment advice. All rights reserved.