The one thing to note about today's "decisive" jobs number, is that most are scrambling to warn that they really have no idea what it will be due to yet another unprecedented instance of cold weather and snow in the winter (see "Goldman Warns Snow May Leads To Lower Jobs Number, But Snowstorms Will Result In Higher Wages"). The reality is that, based on recent ADP trends and the shale patch reality and recent ISM/PMI surveys, today's NFP should print well below 200,000 (unless some 100,000 bartenders were hired in the deep of winter), not where Wall Street consensus expects it, at 235,000 (on a range of 150K to 370K.
What the final number is, we will know in about an hour (there will be a slight delay because due to ongoing D.C. shutdowns, there will be no press lock up ahead of the NFP number, meaning media outlets will need at least 5-10 minutes to put together their reports).
That said, here is what Wall Street expects, courtesy of RanSquawk. Call it trendline extrapolation:
Citigroup 200K
UBS 220K
HSBC 220K
Goldman Sachs 220K
JP Morgan 222K
Credit Suisse 220K
Morgan Stanley 250K
Deutsche Bank 250K
The full summary consensus:
US Change in Nonfarm Payrolls (Feb) M/M Exp. 235K (Low 150K, High 370K), Prev. 257K, Dec. 329K
US Unemployment Rate (Feb) M/M Exp. 5.6% (Low 5.5%, High 5.8%), Prev. 5.7%, Dec. 5.6%
US Average Hourly Earnings (Feb) M/M Exp. 0.2% (Low -0.1%, High 0.3%), Prev. 0.5%, Dec. -0.2%
Some more thoughts from RanSquawlk:
The BLS jobs report for February is expected to show another strong headline jobs growth figure of 235K albeit at a slower pace than observed over previous months. Furthermore, wage growth is expected to continue after average hourly earnings increased by the most since November 2008 in January while the 3-month average jobs increase of 336K currently stands at its highest level since 1997. Nonetheless, recent economic indicators have been mixed with ADP printing slightly below expectations at 212K and the employment component of the February ISM Manufacturing report came in at its lowest since June 2013.
In terms of wider significance, increased attention will be given to inflation and labour indicators for when rate lift-off could occur with the Fed reiterating that it remains data-dependent on policy moves. Fed Chair Yellen's semi-annual testimony last month pointed to flexibility within the Fed's forward guidance, indicating that a rate hike could come at any meeting following the next two FOMC rate decisions. Concerning the labour market, Fed officials have commented that the employment situation is improving in general but also note that wage growth is still sluggish.
Market Reaction
Another strong NFP reading coupled with sustained wage growth could see investors bring forward rate hike expectations, with the UST curve expected to steepen significantly in the front-end while the USD-index could extend on its 11-year highs. However, further appreciation in the greenback in tandem with increased speculation of a mid-year rate hike could be a trigger for a pullback in US equity markets with the S&P 500, Russell 2000 and DJIA all hitting record highs in recent weeks. On the contrary, a jobs number below the 200K mark or a contraction in wages may strengthen the case of lower rates for longer and could see US yields fall across the curve. Of note, futures markets are currently pricing in a 16% chance of rate hike in June as opposed to a 73% chance of rate lift-off in October.
* * *
It that's not enough, Bloomberg has calculated the "consensus" based on Twitter shoutouts. For what it's worth, it currently stands at 221,000.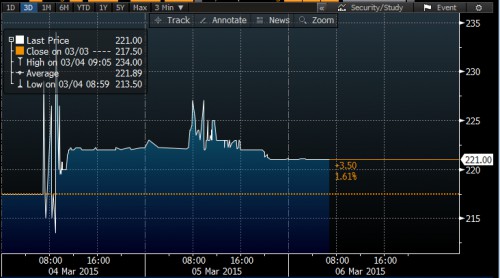 * * *
Finally, here is the WSJ with 5 things to watch in the February report:
Tracking Trends
The U.S. economy added an average of 267,000 jobs each month over the past year. Hiring from November through January was even stronger, with employers adding jobs at the best three-month pace since the late 1990s. Economists expect hiring to ease somewhat from those lofty levels, but February could mark the 12th straight month of jobs gains above 200,000.
Watching Wages
With steady job creation and the unemployment rate well down from a year earlier, many observers are expecting wage growth to pick up. January's average hourly earnings advanced 2.2% from a year earlier. That was an improvement from December's 1.9% gain, but still modest by historical standards. Wages grew at a better than 3% rate annually during the prior economic recovery that ended in 2007.
Weather Effect
Winter weather disrupted a broad swath of the country in February. New England spent the month digging out from a series of snow storms and Chicago recorded the coldest February since 1875, according to the National Weather Service. That may have curtailed hiring in weather-sensitive industries, such as construction. The weather could have also depressed average hours worked per week because snow and school closures prevented some workers from reporting to their normal shifts.
Participation Progress
Participation in the labor force perked up somewhat in January, rising to 62.9% from 62.7% in December. Still, the reading is near the lowest level since the 1970s. Economists will monitor the labor-force participation rate for signs that increased hiring is drawing more Americans back into the jobs market.
Industry Breakdown
Which industries add jobs in February will help influence other measures such as wage growth. Hiring has picked up in manufacturing and construction in recent months, two fields that tend to pay better rates than many service-sector jobs. Meanwhile, employment in mining and logging slipped in January due to a slowdown in oil drilling, and may have eased further in February.
* * *
Finally, putting it all into context, the average seasonal adjustment over the past decade is an addback of 1.5 million jobs for February. This means that the entire seasonally-adjusted NFP number - which will be about 15% of the just the seasonal adjustment - is purely a function of the assumptions the BLS Arima X 12 model makes about what the weather implies jobs should have been. In other words: nothing but goalseeking.