After three hopeful months of greater-than-50 prints for Japanese Services PMI, February saw it plunge back into contraction with a considerably worse than expected 48.5 print. This drags the overall composite PMI for Japan to 50.0, its weakest reading in 4 months as New Orders drop to May 2014 lows and employment craters to its lowest since Oct 2012. On the heels of last night's weak JGB auction and sell-off in stocks on relatively hawkish comments from economists, tonight is seeing more of the same as the Nikkei 225 is having the worst 2 days in 2 months and JGB yields are jumping once again. Abegeddon is back...
Japan Services PMI worst since April...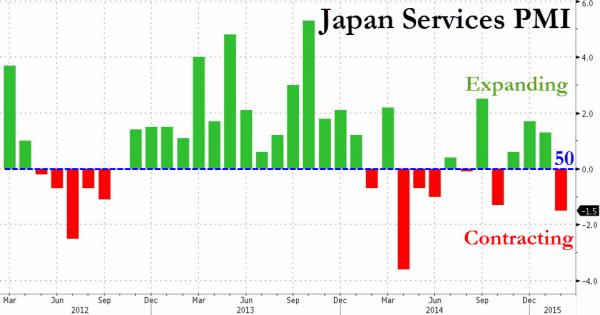 Stocks... worst 2-day drop in 2 months - first 2 days in a row drop this year!!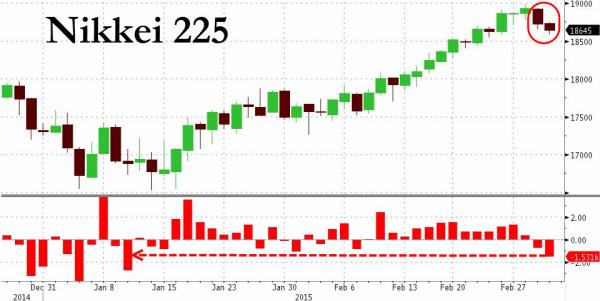 But as we know, a weak morning session in Japan will bring the BoJ stock ETF buying program into action stat...
and bonds plunging...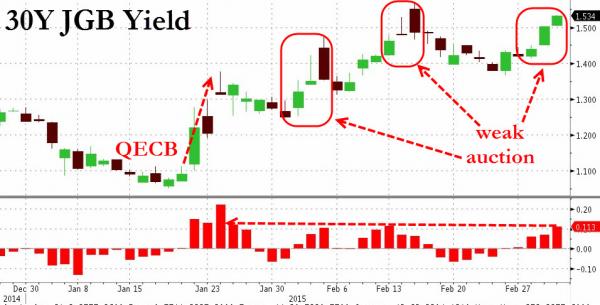 This comes after the biggest surge in wages since 2000 - suggesting the BoJ's days of insanity are perhaps limited.