Gold stocks' new bull market this year has already proven breathtaking. This obscure sector has nearly tripled within a matter of months, yielding immense profits for the smart contrarians who bought in low. But after such a blistering surge, what's going to fuel gold stocks' next upleg? Heavy gold investment buying driving its price much higher will greatly boost gold-mining profitability, attracting in far more capital.
Gold stocks' new bull run in recent months has been massive. Their leading benchmark HUI gold-stock index skyrocketed 182.2% higher in just 6.5 months between mid-January and early August! No other sector in all the markets is even remotely close to challenging this commanding performance. Yet this mighty gold-stock bull still remains young and small, with the great majority of its gains still left to come.
Back in mid-January when all this began, the gold miners were universally hated. So their stocks were battered to fundamentally-absurd 13.5-year secular lows. They were trading as if gold had cratered to just $305 per ounce, but its actual price was 3.6x higher near $1087! So gold stocks were a screaming buy, as I argued aggressively the very week of those secular lows. This whole sector was radically undervalued.
Since today's bull launched from such extreme lows, it will almost certainly prove bigger and longer than normal. Mean reversions out of extremes usually overshoot proportionally towards the opposite extreme. And the standard for gold-stock bulls is already huge. The last one powered higher between November 2000 and September 2011, a 10.8-year secular span that saw the HUI rocket up a staggering 1664.4%!
So nearly a triple in merely a half-year is nothing, practically baby steps in the context of gold-stock bull markets. While great gains have already been won by early contrarians, they are likely only the tip of the iceberg. Gold stocks remain quite low relative to today's prevailing gold prices, let alone where gold is heading in its own new bull. Gold is naturally the overwhelmingly-dominant driver of gold-stock prices.
Stock prices are ultimately driven by underlying corporate profits. And the gold miners' earnings amplify changes in the gold price, exhibiting great profits leverage to the metal they mine. Higher gold prices lead to much-higher gold-mining profits, attracting more and more investors to this sector. These include professional fund managers controlling large pools of capital, and all this buying bids up gold-stock prices.
Gold stocks' next upleg is going to be fueled by a rising gold price, just like the last one and all before it. While gold investment demand has been very strong this year, overall portfolio exposure to gold remains really low. Several factors are converging which should greatly increase investors' desire to diversify into gold in the coming months. Gold's bullish outlook is easiest to understand through the lens of GLD.
The SPDR Gold Shares are the world's leading and dominant gold exchange-traded fund. Nearing its 12th birthday, GLD has become the gold investment vehicle of choice for large stock investors. It is an efficient and easy way to add portfolio gold exposure. GLD's managers are very transparent, publishing a comprehensive detailed report to the individual gold-bar level every day on their gold held in trust for shareholders.
GLD's holdings are the best daily proxy available for whether investment capital is flowing into or out of gold. The mechanics of a tracking ETF like GLD require its managers to shunt any excess supply or demand for its shares directly into physical gold bullion. That equalizes differential buying and selling pressure between this ETF and its underlying metal, which is the only way GLD can continue to mirror gold.
This first chart shows GLD's daily physical-gold-bullion holdings superimposed over gold's price during the past 4 years or so. For each calendar quarter, the builds and draws in GLD's holdings are noted in both percentage and absolute-tonnage terms. Gold's price change for each quarter is also shown. The situation in GLD's holdings today combined with some major events underway or coming argues for big buying.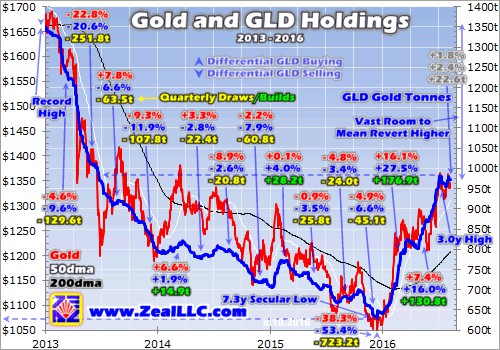 stock markets levitated by the Fed's unprecedented open-ended third quantitative-easing campaign, capital fled alternative investments. Why own anything but stocks when they do nothing but rally thanks to extreme central-bank easing? The resulting extreme GLD-share selling crushed gold.
GLD's mission is to track the gold price, but its shares have their own unique supply and demand that is independent from gold's. So when stock traders sell GLD shares faster than gold is being sold, this ETF's price threatens to decouple to the downside. GLD's managers have to buy back enough GLD shares to sop up the excess supply. They raise the funds to do this by selling off some of this ETF's underlying gold bullion.
The stock-levitation-fueled GLD liquidation finally climaxed in mid-December 2015, the day after the Fed's first rate hike in 9.5 years. Stock investors and futures speculators alike had come to believe that Fed rate hikes were gold's ultimate nemesis, despite the fact history proves that gold thrives in Fed-rate-hike cycles! So GLD's holdings were battered to an extreme 7.3-year secular low of just 630.2 metric tons.
Disclaimer: Doing deep individual-stock research to uncover the best silver miners to own has long been one of our specialties at Zeal. Between our acclaimed weekly and monthly newsletters, in recent months we've added 8 new silver-stock trades with unrealized gains already running as high as +297%! These are the companies with the best silver fundamentals and the greatest odds of outperforming their peers as silver rallies.
We've spent 16+ years intensely studying and actively trading this high-potential contrarian sector, so our expertise is unparalleled. Over the decades we've helped our subscribers multiply their wealth with many hundreds of gold-stock and silver-stock trades. Our newsletters draw on our vast experience, knowledge, wisdom, and ongoing research to explain what's going on in the markets, why, and how to trade them with specific stocks. They will help you learn to think, trade, and thrive like a contrarian for just $10 an issue. Put us to work for you, subscribe today!
We publish acclaimed weekly and monthly newsletters offering a studied contrarian perspective on the markets.They draw on our vast experience, knowledge, wisdom, and ongoing research to explain what's going on in the markets, why, and how to trade them with specific stocks.We've done hundreds and hundreds of gold-stock and silver-stock trades over the decades, earning fortunes for our subscribers.In recent months we already have many new trades with unrealized gains ranging from 40% to 80%+!At just $10 an issue, you can't afford not to subscribe. Join us today before we end our 20%-off sale!
How did you like this article? Let us know so we can better customize your reading experience. Users' ratings are only visible to themselves.
With gold itself falling to a 6.1-year secular low that very day, bearish calls abounded for gold to keep on spiraling lower indefinitely. But the combination of gold not collapsing in the face of rate hikes despite the script, and stock markets suffering their worst selloff in 4.4 years in early 2016, led investors to return to gold. So they started migrating capital back into forsaken gold, primarily through buying GLD shares.
The differential demand for GLD's shares was so great during Q1'16 that its holdings surged by 27.5% or 176.9t! That raw tonnage number is important because it once again reveals GLD's overwhelming influence on gold prices. The World Gold Council's definitive research on global supply and demand showed overall world gold demand rose 219.4t in Q1. So GLD buying alone accounted for 80.6% of that!
That massive gold investment buying continued in Q2, where intense differential demand for GLD shares drove another major 130.8t build. According to the WGC's latest Gold Demand Trends report on Q2'16 just released yesterday, total global gold demand climbed 139.8t year-over-year. Thus the GLD gold-bullion buying alone from differential share demand was responsible...
More