After falling sharply from the $30s to close recently at $9, shares of SunEdison (NYSE:SUNE) might hold their recent gains and move higher from here. The company has a massive backlog of 5.6 GW (giga watts), and gross pipeline additions in the most recent quarter.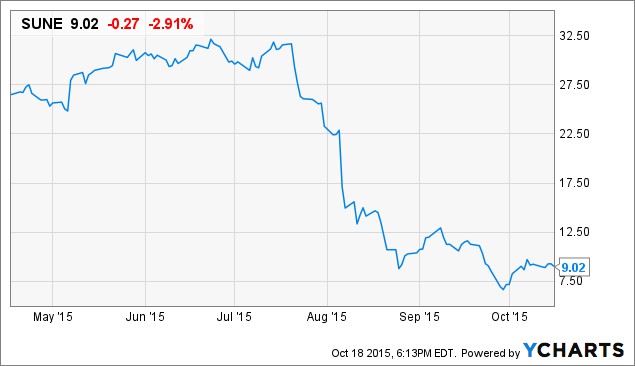 SunEdison is transforming into a wind business. The company largely completed absorbing the business into its own. It acquired Vivint Solar; the deal will close in the fourth quarter. Vivint gives SunEdison a residential platform and effectively exposes the company to the U.S. solar market. So long as the unit generates 434 MW per year, Vivint will be cash flow positive. SUNE assumed that with a 50% renewal, the IRR (internal rate of return) will be 8.1 percent.
SunEdison has 8.1 GW in the pipeline; it generated 404 MW in its second quarter. Looking ahead, the company believes there is a 56 GW opportunity in the marketplace. 33.4 GW comes from potential leads. SunEdison believes it may convert 10 percent of these leads, based on past experiences. The net result is 15.7 GW of opportunity ahead.
Source: SunEdison
The company's inflection point comes from the net increase in...
More