On Wednesday, Hungary served notice that it's willing to go to great lengths to preserve the integrity of its border with Serbia in the face of a massive influx of migrants fleeing war-torn Syria. Earlier in the week, Prime Minister Viktor Orban completed a 100-mile, razor wire fence along the border and announced that anyone caught tampering with the fence in an effort to gain entry into the country would be arrested and prosecuted.
This left thousands stranded in Serbia and after a night staring up at the razor wire, many migrants decided to test Hungary's resolve. This is what happened next: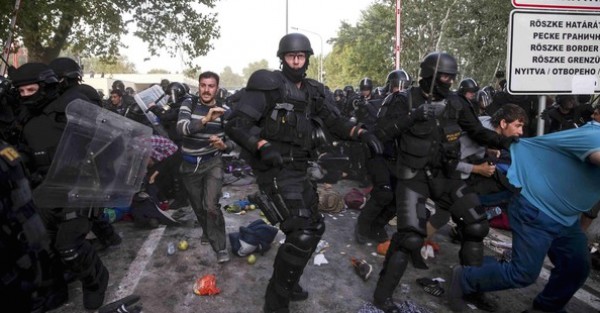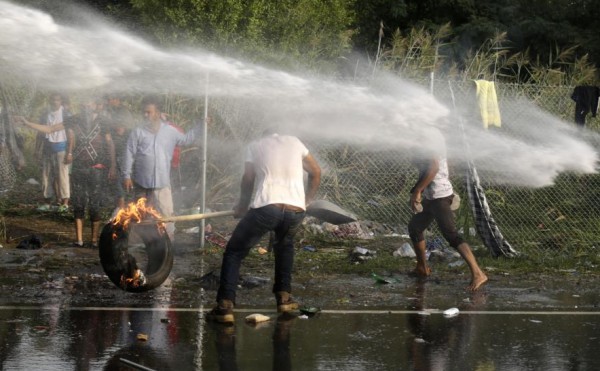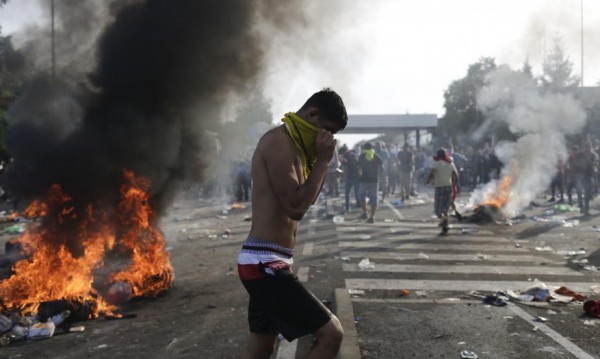 As Gyorgy Bakondi, an aide to Orban recently put it: "We hope that the messages we have been sending migrants for a long time have reached them. Don't come. 
Roger that. Aye, Captain.
Of course Serbia is in no position to accommodate the asylum seekers and in any event, pictures of parties and Merkel selfie photo ops have hardened many refugees' already ironclad resolve to make it to Germany. The next best option, now that Hungary's border is for all intents and purposes closed, is through Croatia.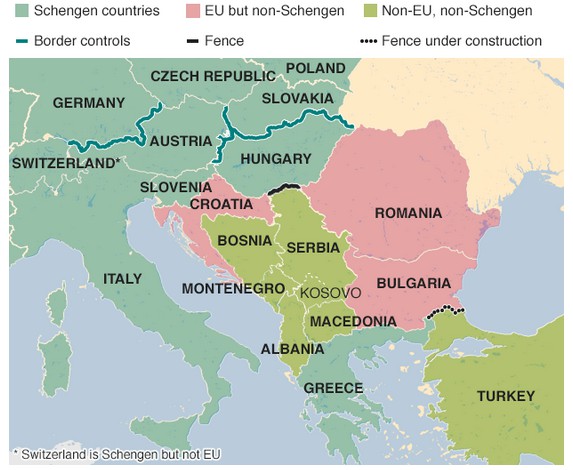 As noted on Wednesday, the country was already making preparations for the influx and as Reuters reports, the flow of refugees into the country on Thursday was staggering. Here's more:
More than 5,000 migrants have entered Croatia since Hungary sealed its southern border with Serbia, police said on Thursday, seeking new routes through the Balkans to western Europe.

 

With their path north from Serbia into Hungary - and the European Union - blocked since Tuesday, migrants have simply turned west to the Croatian frontier.

 

The influx, which Croatia says it will not halt, puts tiny Slovenia next in line to receive the thousands of migrants, many of them refugees from the Middle East, trying to reach Austria then Germany and other more prosperous countries of northern and western Europe.

 

"We are tired. We are exhausted. We have been traveling for ten days. We just want to pass to through Croatia and go to Germany," said 19-year-old Salim from Syria who crossed at the Serbian border town of Sid.

Hungary's crackdown has been decried by the United Nations and human right groups.

 

Hundreds of migrants, mainly young men, clashed with Hungarian riot police on Wednesday over a fence that Hungary has built the length of the frontier, the latest violence in a migration crisis that has seen hundreds of thousands of people from the Middle East, Africa and Asia reach Europe's shores.

 

"The migrants can be seen entering Croatia around several crossing points," police said, putting the figure since early Wednesday at 5,650.
But while passing through Croatia may be relatively straightforward (assuming no one steps on a Balkan war-era landmine), the next step is getting through Slovenia, which says it will not serve as a migrant superhighway north to Germany:
Slovenia, which unlike Croatia a member of Europe's Schengen zone of border-free travel, has ruled out creating a "corridor" for migrants. It says any asylum seekers will be accommodated in Slovenia and others turned back. 

 

(a map FT says is circulating in Turkey showing the Croatia-Slovenia route)
And more from FT:
Many migrants plan to travel onward from Croatia to Slovenia, part of the EU's Schengen free movement area, and from there to Austria and Germany.

 

But on Wednesday, Slovenia signalled it would reinforce its frontier with Croatia, posing a new obstacle to the migrants, and announced temporary border controls with Hungary, a fellow Schengen member.

 

Many analysts and activists said the disruptions were sure to push the migrants on to other routes.

These include alternative paths through the Balkans or the dangerous Mediterranean crossing from Libya to Italy which, until this year, was the most travelled route.

 

"Normally when one route gets blocked or more difficult, migrants' first choice is to return to an old established route," said an official at Frontex, the EU's border control agency.

 

 

"It is likely that some people will look again at the central Mediterranean route from Libya — we can predict a spike there — and people will be working on rival Balkan routes as we speak."

 
In other words, regardless of what Slovenia does, no one is going back to Syria.
As we've said on a number of occasions over the past two weeks, the promise of a German paradise indeed serves as strong motivation for asylum seekers traveling through the Balkans, but as great as German beer and "Mama Merkel" would be, the overarching goal here is to escape Syria's horrific civil war which, thanks ironically to the worsening migrant crisis, is about to get even more horrific as French jets prepare for bombing runs and the Russians dig in. What that means is that if the preferred path to Germany through Serbia, then Croatia, then Slovenia becomes too cumbersome (i.e. somehow turns out like Hungary), then the flood of asylum seekers won't hesitate to take even more dangerous routes, one of which takes them through Libya, another US foreign policy success story and another through Russia, which raises questions about what effect an influx of refugees seeking asylum in the Nordic countries would have on Moscow's military response in Syria. 
What seems clear from the above is that this is going to get far worse before it gets better, as diverting the people flow seeking asylum in Germany will only serve to make the journey that much more dangerous which means many more refugees will die, ensuring that not only will history blame the West for creating the crisis in the first place, but will also condemn it for failing to craft a response adequate to minimize asylum seekers' suffering.