The GBP/JPY has been bearish since 180.70 high on the year made in September. It made a dramatic downswing to 168 before stabilizing and rebounding. 

GBP/JPY Daily Chart 10/23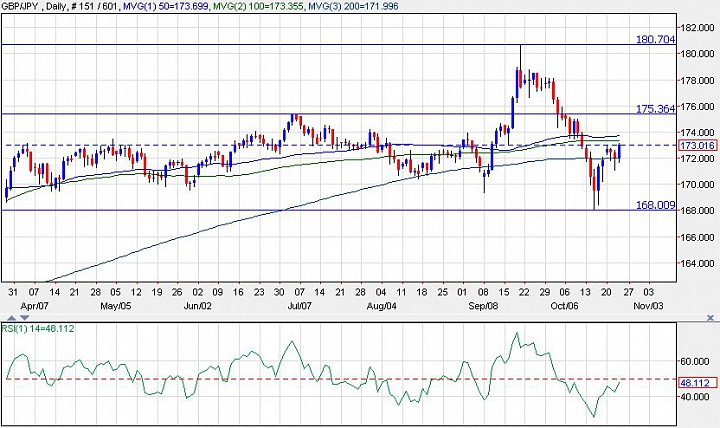 (click to enlarge)

The daily chart shows that this puts GBP/JPY back into a neutral mode after September's bullish breakout swing. In fact, having reversed the September rally completely and more, the the latest downswing may be a sign of bearish outlook in the weeks to come.

Since last week however, GBP/JPY appears to be  bullish, and is showing signs it might be extending higher, looking in the 4H chart.

GBP/JPY 4H Chart 10/23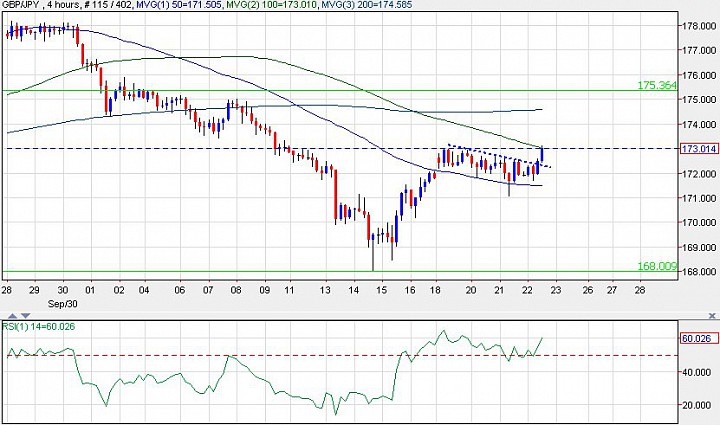 (click to enlarge)

In the 4H chart , we can see price breaking above a multi-session consolidation pattern - somewhat of a flag pattern. If it can clear above 173 it would break above last week's high and the 100-period SMA in the 4H chart. This will suggest a rally toward teh 175.00 handle, up to the 175.36 former support pivot, especially if the 4H RSI clears above 60 toward 70.
Now, if the 4H RSI fails to clear 60 and price pulls back below 172.00, the above-mentioned bearish outlook could be developing. 

Also at 175.36 look for sellers especially if the daily RSI is near 60. A break above 175.50 might bring back the bullish outlook. while a hold below 175.36 reinforces the case for a bearish reversal after an exhaustive false breakout in September.